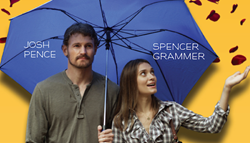 Los Angeles, CA (PRWEB) August 07, 2013
With offerings from filmmakers making their directorial debuts, to Emmy-nominated editors and actors, to animated shorts, and a sci-fi love story, the NewFilmmakers LA Film Festival August program truly offers a film for every fan of cinema. Held in the state-of-the-art theatre at the AT&T Center in Downtown Los Angeles, each film program offers a pre-reception and after-party, with an opportunity to sip cocktails while chatting with the filmmakers, casts & crew in our red carpet Cinema Lounge, or listening to hot tunes spun by a local DJ on our outside patio lounge during a gorgeous summer evening.
The NewFilmmakers LA August program lineup includes:
In Lieu of Flowers (Dir. William Savage) - Most love stories are about losing love or finding it. This is a story about what happens in between. It follows Eric (Josh Pence) and Rachel (Spencer Grammer), two strangers on the heels of heartbreak. Much to the concern of their friends (Nate Corddry & Melissa Rauch), Eric and Rachel are finding it difficult to move on. But after a chance meeting between the two, everything starts to change. They embark on a friendship that guides them out of their respective ruts, but ultimately becomes more complicated as it develops into something more. Through it all, we accompany Eric and Rachel as they awkwardly, and often times comically, navigate the ambiguous space between losing love and finding it again.
William Savage's feature filmmaking debut was produced by Jason Mandl ("Noah's Arc"), and edited by ACE & Emmy-award winning editor Jonathan Schwartz ("Modern Family", "The Neighbors").
In Lieu of Flowers stars Josh Pence (The Dark Knight Rises, Gangster Squad), Spencer Grammer ("Greek"), Nate Corddry (Girl Most Likely, "Harry's Law"), and Melissa Rauch ("The Big Bang Theory", "I Love You, Man").
Unlikely Friends (Dir. Leslie Neale) - The documentary film, "Unlikely Friends", explores how the power of forgiveness between victim and perpetrator can affect change within the criminal justice system by pacing roads to reconciliation and rehabilitation.
An award-winning director, Leslie Neale's debut documentary film, Juvies, won the Jury Award at the Beverly Hills Film Festival and was nominated for an International Documentary Association award in 2004. Unlikely Friends is narrated by "M*A*S*H" and "Providence" star & Emmy-nominated actor Mike Farrell.
Grape (Dir. Daniel Stine) - Grieving winemaker Grayson Delecourt, pondering the sale of his family vineyard, receives an unwelcome overnight visitor on a bleak, wintry afternoon. He soon discovers that Tyler, the drunken, disheveled young man who stumbled into his tasting room faces life-altering decisions of his own, and over the course of an awkward evening, the two forge a tenuous common bond.
Daniel Stine's 2011 short film, God and Vodka, swept the Cincinnati International Film Fest winning the Best Director, Best Screenplay, and Best Narrative in the Short Film categories, while also taking home the Special Jury Prize, awarded to an emerging filmmaker.
Stine stars in Grape along with Linden Ashby ("Teen Wolf", "Iron Man 3") as the winemaker Grayson, Susan Walters ("Vampire Diaries", "The Young and the Restless"), Kate Hamilton ("Criminal Minds"), and Isabelle Gardo.
Vanished (Dir. Simon Beckman) - A secret research facility has been completely annihilated when a special ops team comes to the rescue. Keaton, a hard-nosed investigator, tries to reconstruct what has happened when one sole survivor is discovered.
Making his directorial debut at NewFilmmakers, Simon Beckman directs a talented team of actors in Vanished including Cameron Richardson ("Shameless", "Harper's Island"), Mark Rolston ("NCIS", "The Shawshank Redemption"), Scott Elrod ("Men in Trees", "Argo"), and Kevin Daniels ("Justified", "Modern Family").
A Life With Asperger's (Dir. Jaime Ekkens) - An animated documentary that explores the challengers of growing up and living with Asperger's Syndrome. A voice over narrative that demonstrates Asperger's is not simply "being a little awkward", rather it's about adapting to one's limitations in the face of anxiety and isolation. The technique is a collage of photography, rotoscope, animated characters, and live action footage.
Breaking Character (Dir. Brett Wagner) - Farrah, a young aspiring actress, finds her most promising opportunity is actually an audition for her life.
Geist (Dir. Justen Lander) - Dog died yesterday.
Mine is Mine (Dir. Kyle Bowe) - Meet Phil. A friend only a clone could love. Unless clones have free will...
Record/Play (Dir. Jesse Atlas) - A malfunctioning cassette tape captures more than just audio in this sci-fi love story.
Safety (Dir. Rory Uphold) - Andy tries to get over her ex by getting under Morgan. The results are awkward and unexpected.
Tears At Dawn (Dir. Jordan Kerfeld) - When his little sister is kidnapped in an ice cream truck, Marine Corpsman Arthur Orange must serve up three scoops of pain to get her back.
The Fifth Stage of Labor (Dir. Cynthia Lubow) - When a single lesbian mom's only son is about to leave for college, her heartbreak and struggle to let him go is complicated by his telling her he's selling marijuana to ease her financial pressure.
Located in Downtown Los Angeles, AT&T Center is the Presenting Venue Sponsor of NewFilmmakers Los Angeles. Producer's Circle Sponsors include SAG-AFTRA and Wells Fargo. For more information and to purchase tickets for the NewFilmmakers LA Film Festival on August 10th, 2013, please visit http://www.newfilmmakersla.com. Submissions are currently being accepted for future screening consideration.