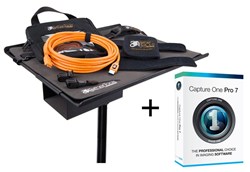 Scottsdale, AZ (PRWEB) August 07, 2013
Tether Tools and Phase One have announced a special Pro Tether Kit with Capture One Pro 7 that provides photographers the optimal tools for professional tethered capture. Together, the Tether Tools photo workstation and Capture One Pro 7 provide an exceptional workflow configuration for photo capture, camera control, processing and output, whether the shoot is in the studio or on location.
Capture One Pro 7 is the professional choice in imaging software, providing instant tethered capture. This software is now available with a comprehensive hardware solution including Tether Tools' Tether Table workstation with patented LAJO-4 ProBracket that enables the workstation to be mounted to any tripod or light stand; a secure XDC hard drive compartment; a choice of TetherPro cable and a JerkStopper Tethering Kit to ensure the camera and computer connections remain secure.
The Pro Tether Kit with Capture One Pro 7 Includes:
Capture One Pro 7
Capture One Pro 7 is a premier raw converter, rendering precise colors and incredible detail with support for leading cameras. It provides flexible digital asset management and all the precision tools needed to capture, organize, edit, share and print - creating stunning out-of-the-box images from more than 250 leading high-end cameras (from Canon, Nikon, FUJIFILM, Samsung, Leica and more). With a fast and intuitive workflow, it can be customized to fit unique project requirements. Supported cameras can be found here: http://www.phaseone.com/en/Supported-cameras .
Capture One Pro 7's instant tethered capture allows for importing and viewing images as you shoot them with the world's most advanced tethered capture solution. Simply connect your supported camera to view and examine your images on-screen in close-up detail. Use the Capture Pilot for iOS or in a web browser to view and rate your images when away from the computer.
Tether Table & Aero Accessories:
The Tether Table Aero Traveler is a lightweight T6 Aerospace aluminum platform finished in a stunning non-reflective black. Designed for the photographer on the go, the Aero Traveler is 16" x 14" (40cm x 35cm) and includes the state-of-the-art LAJO-4 ProBracket, providing the ultimate in mounting versatility. Place the table on any light stand or tripod using one of the multiple mounting options. The LAJO 4 ProBracket includes receptors for 1/4"-20 and 3/8" threads, 5/8" (16mm) Baby Pins and a male Arca-style mounting attachment.
The Pro Kit includes Aero Accessories that mount directly to the table. The Aero ProPad for the Traveler Tether Table provides a non-slip, heat dispersing top for the Tether Table that is water and stain proof. For added security the SecureStrap is designed to fasten a laptop to the Tether Table by securing the buckles on each side. The XDC Solo External Drive Compartment is built out of the same T6 aluminum and provides a convenient sleeve shelf that mounts directly under the table's surface to hold a back-up hard drive, batteries or phone.
TetherPro Cable (your choice of style & color) & Case:
TetherPro USB Cables are premium quality and designed for high capacity photo transfer at fast speed while shooting tethered. Gold plating and ferrite cores reduce noise and signal errors for the most reliable tethering experience. They are available in high-visibility orange or black. Depending on the style of camera, photographers can choose their optimal cable.(Camera Compatibility Guide). The Tether Tools Standard Cable Organization Case is an easily accessible, durable storage case for all the various tethering cables, straps and JerkStopper cable retention devices. Each case features a clear front window enabling quick and easy access to exactly what you need.
JerkStopper Cable Management:
Cables and power cords can dislodge from cameras and computers due to normal movement and activity. To avoid damage and costly repairs, JerkStopper® Cable Management for Camera and Computer devices ensure cables stay in at both ports when tethering with USB, FireWire, or HDMI cables. JerkStopper or flash sync cables (3.5- 8.5mm). A StrapMoore device is also included to secure a laptop powerbrick or other small accessories to the stand legs while shooting tethered.
Kit Options including Pricing & Availability
The Kit offers a choice of TetherPro USB 2.0, USB 3.0 or FireWire cable in Black or High Visibility Orange. Regular kit prices range from $686.55 to $698.55, depending on cable selection.
For a limited time, the Tether Tools + Phase One Capture Pro7 Kit is available at 15% off regular price -- $583.55 to $593.75 -- a savings of more than $100 off the complete kit. This promotion will run from August 10 - 23, 2013 at http://www.TetherTools.com/COP7 and through select retailers.
About Phase One
Phase One is the world's leader in open-platform, high-end camera systems and solutions. Phase One cameras, digital backs and lenses are designed to deliver superior quality image capture and investment value. Phase One's Capture One and Media Pro software help streamline capture and post-production processes for both medium format and DSLR cameras. Phase One products are known for their quality, flexibility and speed enabling pro photographers shooting in a wide range of formats to achieve their creative visions without compromise.
Phase One is an employee-owned company based in Copenhagen with offices in New York, London, Tokyo, Cologne, Hong Kong, Shanghai, Sydney, and Tel Aviv. Phase One and Capture One are registered trademarks of Phase One A/S. All other brand or product names are trademarks or registered trademarks of their respective holders.
Find Phase One on their Website, Twitter, Facebook, Google+ and LinkedIn.
About Tether Tools®
Tether Tools® is a design and manufacturing company providing innovative custom photography equipment and accessories for in-studio and on-location shoots. Tether Tools is committed to providing high quality versatile tethering and workstation solutions for professional and enthusiast photographers. Tether Tools also supplies gear for musicians, filmmakers and other creative professionals.
For more information, please contact Amber McCoy at 888.854.6565.
Find Tether Tools on their Website, Twitter, Facebook and Google+.