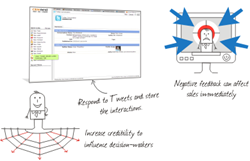 CRMnext Enables Drag and Drop Interface
Delhi (PRWEB) August 09, 2013
CRMnext, Asia's no. 1 CRM solution, introduces advanced drag and drop capability to create and update customized layouts for users depending on their roles and permissions. To ensure optimal user experience and effective capture of customer, partner and vendor information customized page layouts are available to the users for different roles. With this option to design user interfaces as per the needs of a particular role data can be captured accurately and faster by ensuring screens are easy to navigate and information relating to a customer or any query, request or complain can be viewed through a single window.
'Customize Page Layouts' enables permitted users to design user interfaces for New/ Edit, Details, Search, Printer Friendly and Quick Details page layouts using a multitude of options available to add buttons, sections, system/ custom fields, mash up controls, etc. Fields can be added to layouts by simply dragging-and-dropping them to a section under relevant tab. Most fields can be edited on the page layout to configure their default values, visibility, highlighting colour, help text and much more.
Dr. Manoj Kumar said, "With the advanced custom page layout capability in our CRM solution we provide complete flexibility and a plethora of options for ensuring user interfaces make capturing information easier and quicker Layouts can be simple or display a variety of rolled-up information from across objects under a single record depending on the role of a user to ensure information is secure and simultaneously, working collaboratively is better facilitated."
About CRMnext:
CRMnext is a specialist Customer Relationship Management product company with focus on ultra-scalable installations. CRMnext team has proven track record of delivering High-Impact CRM solutions in their key practice vertical of Financial CRM, Banking CRM, Insurance CRM, Media CRM, Pharma CRM, Telecom CRM etc. Unlike commodity CRM, CRMnext has been widely recognized as a proponent of strategy driven implementations.
Subscribe our blog to keep updated at http://feeds.feedburner.com/HighImpactCrmBlog-Crmnext.