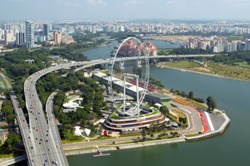 We strongly recommend visitors to make their travel plans earlier and book their accommodation as soon as possible to avoid disappointment.
Singapore (PRWEB) August 07, 2013
Finding accommodation in Singapore over the F1 weekend can be a challenging prospect, but BudgetHotels.sg has released a new Singapore F1 hotel guide which includes a list of recommended trackside hotels with best view and budget hotels near the circuit for racing fans to book their hotel accommodation early.
The Singapore F1 hotel guide, prepared by Danny Lee who created BudgetHotels.sg, is a great resource for F1 enthusiasts. The guide offers recommendations on which trackside hotels to stay so racing fans can watch the heart-thumping race "live" from the comfort of their own rooms. Fans who are on the lookout for affordable accommodation can also experience the thrill of the race as the hotel guide shares a list of several budget hotels that are within walking distance to the F1 street circuit.
"As in previous years, the F1 Singapore 2013 Grand Prix is Asia's biggest motor-sports event. Thousands of F1 fans from countries such as UK, USA, Australia and New Zealand are expected to come to the race. Due to the abundance of cheap airfares, visitors from neighboring countries such as Malaysia and Indonesia will also fly in for the event. As such, hotels near the F1 race track are expected to be in extremely high demand and fully booked during the race weekend," commented Danny Lee of BudgetHotels.sg.
Scheduled from 20 to 22 September 2013 (Friday to Saturday), this year's F1 Singapore promises something for everyone. While the race is the climax of the weekend, fringe events that are held alongside the race also make for an action-packed weekend for all attendees.
The F1 Singapore Concert 2013 is another reason F1 fans and concert-goers need to book their hotels early. Heading the upcoming F1 concert line-ups are international A-list stars such as Rihanna, Justin Bieber, The Killers (UK), Big Bang (Korea), Tom Jones and Owl City. Fans of these singers and bands are also expected to make a beeline to Singapore to catch their idols in action.
Added Danny Lee, "Fans of the star-studded headliners who are attending the three-day concert will help drive up the demand of hotel rooms during the weekend race. We strongly recommend visitors to make their travel plans earlier and book their accommodation as soon as possible to avoid disappointment."
To check out the new Singapore F1 hotel guide, please visit http://www.budgethotels.sg/where-to-stay-during-f1-singapore/.
About BudgetHotels.sg
Created by a local expert, BudgetHotels.sg is a first-of-its kind hotels guide platform in Asia that provides a compilation of budget hotels in Singapore with key information like the location of nearby MRT train stations, food outlets and shopping options. At the same time, the website also provides sightseeing suggestions and tips tailored for budget business and leisure travellers.