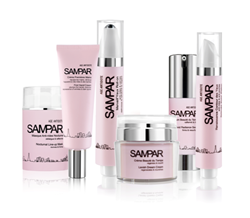 The SAMPAR mission is to reset the skin's intelligent response system and support its natural healing actions.
Johannesburg, Gauteng (PRWEB) August 31, 2013
You don't need to be a beauty expert to share in the excitement: Parisian skin care brand SAMPAR Paris is launching in South Africa. The SAMPAR Paris range will be exclusively available at Edgars and is set to become a firm favourite in the store's range of exclusive cosmetics.
SAMPAR Paris has carved a reputation as the pioneer of urban skincare. Driven by the mission to awaken the beauty in every woman, the brand consists of a range of intelligent skin care products, designed to combat the effects of the urban environment on the skin.
Smart Products for Urban Women
Based on the "Smart Skin Concept", SAMPAR products work on the premise that the skin is an intelligent organ, with the ability to adapt to its environment. However, both ageing and environmental factors threaten the skin's ability to adapt and regenerate. The result? Skin that is dull and sensitive, blemished and dehydrated, enhancing the appearance of lines and wrinkles.
The SAMPAR mission is to reset the skin's intelligent response system and support its natural healing actions. SAMPAR products are able to do this using Urban Advance, an exclusive complex that acts at the heart of the skin cells to awaken and reactivate the skin's natural functions. Urban Advance makes use of three active ingredients: Shea Butter Serum to protect the skin; Probiotic Sugar to revitalise and Mint Endorphin for its soothing properties. The complex acts on the skin, allowing it to return to a state of equilibrium and priming it to allow the SAMPAR products to work to their highest levels of performance.
In order to ensure that the product is as simple and effective on the outside as it is on the inside, SAMPAR innovative airless packaging system guarantees that no contamination has occurred and allows you to use 100 percent of the product to the very last drop.
SAMPAR was developed in 2004 by Patrick Sounigo. After completing six years of a medical degree, Sounigo decided to follow his true passion: cosmetology. "For more than 20 years, I've dedicated myself to the research and development of cutting-edge cosmetic solutions. A unifying theme in all of my work has from the beginning been the dream to awaken and reveal a woman's natural beauty, as if it were simply hibernating," Sounigo comments. SAMPAR is now available in 295 stores throughout France, as well as Europe, Asia, America and now in South Africa. SAMPAR comprises six product ranges that can be used alone or together, depending on individual skincare requirements.
Product Spotlight
Essentials: A skin care range for all skin types. Look out for 'So much to Dew' Midnight Mask 50ml (R395). The mask hydrates and replenishes the skin as you sleep, visibly plumping the skin's appearance from the first application.
Cosmakeup: This pairs the instant results of makeup with the benefits of face care products. 'Glamour Shot' 30ml (R425) is a transparent foundation that blurs the line between skin care and makeup to help reduce pores, redness and imperfections; whilst minimising wrinkles and mattifying the skin.
Pure Perfection: A range of products that provide solutions for blemish prone, oily and combination skin. For example, the 'Nocturnal Rescue Mask' 30 ml (R295) becomes absorbed by the skin to create a reparative film and accelerate the natural regenerative process.
City of Light: A range of clarifying and illuminating skin care solutions. Try the 'White Velvet Mousse' 100ml (R295), a lightening cleansing foam that removes makeup from the face and eyes, whilst protecting the skin against the harmful effects of pollution.
Age Antidote: SAMPAR's range of anti-ageing solutions. The 'Vivid Radiance Serum' 30ml (R695) is an anti-ageing serum for daily use that lifts, firms and tones the skin.
Winsome Body: A range of irresistible firming and toning treatments. The 'Joyous Body Milk' 150ml (R465) is a firming and moisturising body milk essential to restore and retain optimal moisture levels in the skin.
"South African consumers are going to be delighted by the SAMPAR range," enthuses Edcon General Manager TJ van Rooyen. "Edgars is always seeking leading products to launch exclusively to our market, and we believe that SAMPAR goes on a long way to fit the bill," he adds.
For more information on the SAMPAR product range, please visit http://www.sampar.com. Not only does the website provide a host of information on the SAMPAR products, it also features a diagnostic page where specific products are matched to skin care requirements. And if you're in need of some beauty tips, look no further than the video clips on the page for some expert beauty scoops...with a twist.
ENDS.
About Edcon
Edcon is South Africa's largest non-food retailer, with a market share of the South African clothing and footwear (C&F) market nearly twice that of its nearest competitor, trading through a range of retail formats. The Group has grown from opening its first store in 1929, to trading in 1,233 stores (at March 2013) in South Africa, Botswana, Namibia, Swaziland, Lesotho, Mozambique and Zambia. Edcon has been recognised as one of the top companies to work for in South Africa and continues to make significant progress in its employment equity and transformation goals.
March Our retail businesses are structured under three divisions: Edgars division, including Edgars, Boardmans, Edgars Active, Edgars Shoe Gallery, Red Square and the Group's mono-branded stores such as Topshop Topman, serves principally middle and upper income markets; Discount division including Jet, JetMart and Legit, serves principally middle to lower income markets; and CNA, the Group's stationery, books, games, movies, music, hi-tech electronics and mobile retailer. The Edcon Credit and financial services division provides credit and insurance products to the Group's customers.
With the launch of its Thank U loyalty program, Edcon now has the largest retail customer database in South Africa with approximately 9 million customers. This enables Edcon to provide customers with relevant offerings across its suite of retail and financial services products.
For more information, please visit the Edcon website: http://www.edcon.co.za
About Edgars
Edgars is the Department Store of Choice for Men's, Ladies, Kidswear, Footwear and Accessories for every occasion as well as leading Cosmetic brands from around the world including GOSH Cosmetics, Nails inc, Sampar, Korres, Radical Skincare, Greenland and Kings & Queens. Showcasing the widest range of the latest's fashion trends from top international brands to own private label brands; Edgars offers something for everyone. There are 181 Edgars' stores in South Africa including neighbouring countries.
For more information, please visit the Edgars website http://www.edgars.co.za
ENDS.