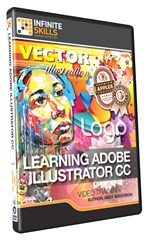 Learn Illustrator CC At Your Own Speed
(PRWEB) August 09, 2013
Software training firm Infinite Skills Inc. this week introduced its "Learning Adobe Illustrator CC Training Video," a course designed to help graphic designers get started using the graphics-focused application designed to work hand-in-hand with Adobe's flagship Photoshop photo editor.
Adobe Illustrator allows graphic designers to create digital graphics, illustrations, and typography for various types of media from print to web and mobile applications.
Infinite Skills' "Learning Adobe Illustrator CC Tutorial," provides an expert-guided introduction to working in Illustrator, with lessons designed from the perspective of an award-winning artist and digital designer. The course also covers important updates, including the new cloud-based format, and new features such as the touch type tool.
Learning Adobe Illustrator CC Video Training - DVD
Course author Andy Anderson is a career photographer, designer, and professor, with decades of commercial and artistic publications to his credit. He has authored 17 best-selling books on graphics and design. Focusing on the Adobe Creative Suite line, Anderson works and trains others in using Illustrator, Photoshop, Premiere, Elements, Flash, and Dreamweaver.
With the benefit of the insights and perspective developed over the course of an award winning career, Anderson begins by explaining the basics of using Illustrator, covering essentials like preferences, Illustrator's basic user interface, the control panel, and how to customize the workspace.
From there, Anderson begins teaching how to work in Illustrator. Offering an artist's point of view on complex digital concepts and techniques, he explains first how to control Illustrator, with lessons on working with multiple documents, views and navigation, defining the measurement system, and other organizational tools and techniques.
The course then explores how to work with Illustrator objects as Anderson explains modes of selection, such as when to use various selection tools, using the isolation mode, and key tools like resizing, rotation, and more. Color management follows, with key lessons on managing color sync settings and working with color libraries.
Subsequent chapters cover concepts in managing vector shapes, using Illustrator's pen tool, designing type, working with layers, and much more, including a chapter devoted to tips and tricks for increased efficiency in Illustrator.
"At Infinite Skills, we believe in a three step process to successful learning," Anderson says. "First of all, you control the process. Then, we provide good structure to the learning. And third, we include good working files designed to help students work through crucial concepts in a program."
"These lessons are like building blocks; you can begin and end in a particular chapter. If you don't get it, you can go back through, and keep in mind that every chapter builds on the others."
Free demo videos and a full list of course contents can be found on the Learning Adobe Illustrator CC page of the Infinite Skills website:
http://www.infiniteskills.com/training/learning-adobe-illustrator-cc.html
Infinite Skills offers its Learning Illustrator CC Training Video either as a DVD or a direct download from the company website at a retail price of $99.95. Though the compatibility of programs varies, all Infinite Skills titles and formats are compatible with both Mac and Windows operating systems, and shipping is available around the globe. Additionally, Infinite Skills tutorials are supported by project files which correspond to examples in the videos.
About Infinite Skills Inc.
A leader in the field of software training, Infinite Skills strives to offer the highest quality training available at an affordable cost. Infinite Skills tutorials are task-oriented instructional videos, teaching complex skills by providing hands-on examples, guiding users as they carry out critical objectives. Infinite Skills offers a comprehensive range of software titles available as DVDs, digital downloads, and iPad editions, keeping with company aim of delivering professional training to customers anywhere they want to learn.