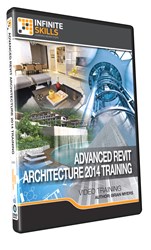 Learn Revit Architecture At Your Own Speed
(PRWEB) August 10, 2013
Revit is a three dimensional architectural design modeling (BIM) program that allows users annotate models with 2D drafting elements. Its unique capabilities for viewing and collaboration come from the ability to access highly detailed building information from a building models database.
Infinite Skills' "Advanced Revit Architecture 2014 Training Video" builds on lessons in the introductory "Learning Revit 2014 Training Video," explaining how to add more detail to model features, and providing a more thorough understanding of settings and collaboration features. The two courses are available bundled at a discounted rate.
Advanced Revit Architecture 2014 Video Training - DVD
Course author Brian Myers has more than twenty years' experience working in Autodesk software. For the last seven years, he has focused on Autodesk Revit, working in all of its various editions. Myers was one of the first certified instructors for Revit Architecture, and, in a addition to his private training practice, he has published several video training series and edited two books. He is the founder of Revit Users, a Revit support community found on LinkedIn.
Building from lessons in the previous course, Myers dives right in to advanced topics, beginning with lessons on defining families and family parameters, followed immediately by an in-depth exploration of how to set up annotation standards, with lessons covering template files, titleblocks, selection tags, dimensions, lines, materials, and much more.
Key concepts covered elsewhere include a chapter on working with site tools that includes lessons on integrating AutoCAD files into Revit models, allowing users to construct a site-view in Revit directly from an AutoCAD drawing.
Chapters on enhanced building elements include lessons on massing, walls, curtain walls, floors, stairs, roofs and more, explaining how to add advanced-level detail to these standard building elements.
Concluding chapters include an in-depth look at detailing, with lessons on keynoting and creating keynotes, as well as a chapter on presentations.
"Overall, this course is designed to enhance students' understanding of Revit capabilities," Myers says. "It is designed to increase knowledge of settings and explore capabilities hidden inside Revit, while providing a greater understanding of Revit best practices."
Free demo videos and a full list of course contents can be found on the Advanced Revit Architecture 2014 page of the Infinite Skills website:
http://www.infiniteskills.com/training/advanced-revit-architecture-2014-training.html
Infinite Skills offers its Advanced Revit Architecture 2014 Training Video either as a DVD or a direct download from the company website at a retail price of $99.95. The course is available bundled with the introductory course, "Learning Revit Architecture 2014 Training Video," at a discounted rate of 149.95 for both courses. All Infinite Skills titles and formats are compatible with both Mac and Windows operating systems, and shipping is available around the globe.
About Infinite Skills Inc.
A leader in the field of software training, Infinite Skills strives to offer the highest quality training available at an affordable cost. Infinite Skills tutorials are task-oriented instructional videos, teaching complex skills by providing hands-on examples, guiding users as they carry out critical objectives. Infinite Skills offers a comprehensive range of software titles available as DVDs, digital downloads, and iPad editions, keeping with company aim of delivering professional training to customers anywhere they want to learn.