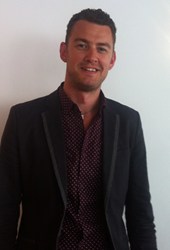 Liverpool (PRWEB UK) 8 August 2013
Adam's past work with the BBC meant that he was a great contender for the role. With Adam taking up the role as User Experience Designer,The Auto Network will be able to focus on the accessibility of all of its sites. The Auto Network is enjoying a period of growth and Adam's involvement plays a big part in sculpting the future of our core brands.
Adam's expertise from working at the BBC means that he is well versed in dealing with highly authoritative websites which attract millions of visitors. Over the last five years of his professional career, he has worked on global projects for next generation TV services, created user interfaces for many companies spanning Europe and Asia for web based TV services, including gaming and Video on Demand for high profile brands.
Using his solid knowledge of eCommerce best practice, the newly-appointed User Experience Designer will primarily focus on re-establishing The Auto Network's existing brands including AskaPrice.com and OneSwoop.com. Adam will be improving the usability and design of the sites in order to ensure that each and every site visitor enjoys the best possible experience whilst navigating through the site.
The improvements made will increase the quality of leads for the sites, which will help in the development of the brands. These changes follow the renewal of The Auto Network's site: MotorTorque, which has been well received by its audience of car enthusiasts.
Adam commented on his new position saying: "I am thoroughly excited about joining the team, raising the profile of UX and contributing to future success of The Auto Network, I'm looking forward to making the most of The Auto Network's current sites."
The Auto Network's Head of Digital Marketing Richard Wood added: "Adam joining us highlights another step in the evolution of The Auto Network. It emphasizes our increased focus on the consumer and the value we can bring to them. We're working hard to connect with car buyers at every stage in the buying cycle and Adam strengthens that proposition.
Adam is incredibly talented and very well experienced, undoubtedly he'll become a key part of the design and development team. The BBC's loss is most definitely our gain."
The Auto Network is extremely excited to start working with Adam and is very hopeful about the changes he will be making to its sites.