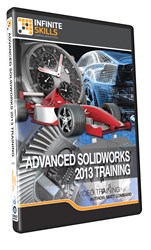 Learn Solidworks at your own speed.
(PRWEB) August 11, 2013
Software training firm Infinite Skills Inc. last week introduced its "Advanced Solidworks 2013 Tutorial," a course designed for experienced Solidworks users looking to continue their study of this powerful 3D modeler for mechanical assemblies.
Solidworks is a 3D computer aided design program used by mechanical engineers. Known for its intuitive approach to modeling, Solidworks' parametric modeling system works by allowing the user to build by manipulating features, producing assemblies by creating, copying, and combining individual parts on a parametric, feature-based system.
Infinite Skills Advanced Solidworks 2013 Training Video builds on the lessons of the first course, teaching advanced concepts in modeling while providing an easily accessible source designers can reference as they encounter problems in a daily workflow.
Advanced Solidworks 2013 is available on its own or bundled with the introductory course, Learning Solidworks 2013, at a discounted rate.
Advanced Solidworks 2013 Video Tutorial - Video
Course author Matt Lombard's engineering career has focused on manufacturing engineering, primarily designing electronic assemblies with plastic housings. He has also worked as a Solidworks implementation consultant and written numerous technical books on computer-assisted design using Solidworks. In addition to his training practice, he currently works as an independent consultant, specializing in plastic parts and surfacing.
Lombard's extensive experience both with using Solidworks in practice and writing and training others gives him the knowledge and insight to make Advanced Solidworks 2013 a valuable tool for any Solidworks user.
The lessons pick up immediately from the introductory course, exploring advanced topics on multi-body construction such as the intersect tool, feature scope, and patterning and moving.
From there, Lombard devotes several chapters to model surfacing, moving from an overview of surfacing into specific topics like controlling splines, applying curve features, and working between solids and surfaces.
Additional chapters cover advanced mates, working with assembly tools, advanced topics in file management, and an overview of top-down design.
Free demo videos and a full list of course contents can be found on the Advanced Solidworks 2013 Tutorial training page of the Infinite Skills website: http://www.infiniteskills.com/training/advanced-solidworks-2013-training.html
Infinite Skills offers its Advanced Solidworks 2013 Video Tutorial either as a DVD or a direct download from the company website at a retail price of $49.95. The course is also available bundled with the introductory course, Learning Solidworks 2013 Tutorial, at a discounted rate of 149.95 for both courses. All Infinite Skills titles and formats are compatible with both Mac and Windows operating systems, and shipping is available around the globe. Infinite Skills tutorials are supported by project files which correspond to examples in the videos.
About Infinite Skills Inc.
A leader in the field of software training, Infinite Skills strives to offer the highest quality training available at an affordable cost. Infinite Skills tutorials are task-oriented instructional videos, teaching complex skills by providing hands-on examples, guiding users as they carry out critical objectives. Infinite Skills offers a comprehensive range of software titles available as DVDs, digital downloads, and iPad editions, keeping with company aim of delivering professional training to customers anywhere they want to learn.