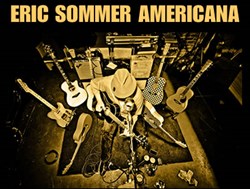 Eric Sommer continues to build on success after success with very strong material and a great solo show... we'd like some more, please!
Cherry Ronner
Davis Media Group
Charlottsville, VA (PRWEB) August 09, 2013
Just when it looks like the coast is clear and it is safe to see live music, Eric Sommer shows up.
It is easy to get comfortable listening to modest guitar player singer-songwriter types at the coffeehouse, but be prepared for an adrenelin shock and a 1,000 watt amp surge through the body when you see Eric Sommer live.
Not as easy as it sounds. Mr. Sommer is fairly elusive: Mr. Sommer will show up at an open mic when you least expect it or drop by a guitar store in Manchester CT for a little guitar prep and play every guitar on the wall.
Just for kicks.
But with the success of "Rainy Day Karma" and a string of live showcases across the Midwest and the Southland, this artists' star appears to be on the rise. This current tour takes Eric Sommer and his blazing style of Pop Americana to established fan centers in Alabama, Texas, Arkansas and Tennessee and also brings Eric Sommer back to the Cleveland, Chicago and Minneapolis area in the early fall before the snow starts driving.
Staunton, VA - The Pompei Lounge • 8/9
Birmingham, AL - Slice • 8/10
Birmingham, AL - Matthews • 8/11
Atlanta, GA - Smith's Olde Bar • 8/12
Memphis, TN - The Buccaneer • 8/14
Dallas, TX - The Balcony Club • 8/15
Austin, TX - Flipnotics 8/16
Austin, TX - Strange Brew Lounge 8/18
Waxahatchie, TX - Music Room Radio • 8/19
Columbus, GA - Soho • 8/21
Norfolk, VA - Belmont House of Smoke 8/23
Appomattox, VA - Baines • 8/24
Cleveland, OH - Barking Spider • 8/25
Kent, OH - Stone Tavern • 8/27
Ann Arbor, MI - Ann Arbor Farmers Market • 8/28
Chicago, IL - Delco Theatre • 8/29
La Crosse, WI - The Root Note • 8/30
Winona, MN - The Acoustic Cafe • 8/31
Ann Arbor, MI, MI - Ann Arbor Farmers Market • 9/4
Saginaw, MI - White's Bbar • 9/5
Chicago, IL - Delco Theatre • 9/6
Minneapolis, MN - Harriet Brewery • 9/7
Little Rock, AR - The Midtown • 9/14
Carrboro, NC -The Station • 9/19
Wilmington, NC - Soapbox • 9/20
Athens, OH - Jackie O's • 9/21
Cincinnatti, OH - Southgate House • 9/26
One of the noticeable standouts in any Eric Sommer show is the on-the-fly improvisational approach to many of the breaks, solo sections and dramatic lulls in an "audio-wash, wall-of-sound" presentation.
And what's a bit remarkable is that all this sound comes from six small stage amps.
Eric started his musical career in the Boston area and has been a regular player on many national tours and showcases. He worked in Europe for two years on Danish, German and British rock stages, returned to Boston and formed The Atomics, a cult power-pop band in South Boston. His influences are as diverse as Townes Van Zandt, Steve Earle, Guy Clark and Ryan Adams. Mr. Sommer's current project with power trio "The Solar Flares" shake up Chet Atkins and Merle Travis influences with those of Shonin Knife and Elvis Costello - a very different mix.
With open tunings, slide guitar, lap-slap tone guitar and a remarkably aggressive fingering style approach, watching Eric Sommer will make you jump out of your seat and holler for joy! There are very few players who have maintained this authentic American style of guitar and Eric Sommer is one of the very best.
Amen.
For Music Samples please visit Eric Sommer online for additional schedules or contact him at eric(at)ericsommer(dot)com or call 202-255-1995. Additionally, you can find Eric Sommer on Facebook at ericsommermusic and FB@itsericsommer. Rainy Day Karma is also available on iTunes and CDBaby.
Eric Sommer is represented by Clyde is Thinking, and PR programs are managed thru MTG/NY; For more information, promo/appearance requests or to set up an interview, please contact Tom Monihan 202-255-1995.