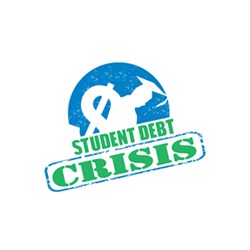 We believe that it's high time that we put a face to student debt and help take away some of the shame that's felt by student debtors across the country.
Staten Island, NY (PRWEB) August 08, 2013
StudentDebtCrisis.org has just partnered with over a dozen organizations for the #OutWithStudentDebt Video Project - an initiative designed to help shed the stigma of shame and embarrassment that comes along with the burden of student loan debt. The non-profit organization hopes to put human faces on the ever-growing student debt crisis so as to raise public awareness and to get the attention of members of Congress who, ultimately, have the authority to provide a much-needed overhaul to the student lending system. The first phase of the #OutWithStudentDebt project began on Tuesday, August 6th and will end on Tuesday, September 3rd.
The #OutWithStudentDebt Video Project was created by StudentDebtCrisis.org and partner organizations include: MoveOn.org, Rock The Vote, Generation Progress, Democracy For America, AFT, Backbone Campaign, Working Families Party, SEIU's Adjunct Action and For Profit U, One Wisconsin Now, Rebuild The Dream, Generational Alliance, NYPIRG and Our Time.
Robert Applebaum, Co-Founder & Executive Director of StudentDebtCrisis.org said, "I thought I only had to come out once. In 1996, when I was 22 years of age, I came out of the closet - the most liberating thing I've ever done and now, I'm coming out again. My name is Robert Applebaum and I have $88,000 worth of student loan debt."
Using a platform created by Contest.is, StudentDebtCrisis.org hopes to collect as many 1-2 minute videos from people all over the country as possible, sharing their personal stories of how student debt has impacted their lives. Participants are being asked to upload their videos to YouTube with the hashtag #OutWithStudentDebt in the title to have their videos automatically submitted.
Natalia Abrams, Co-Founder & Director of Operations for StudentDebtCrisis.org said, "We believe that it's high time that we put a face to student debt and help take away some of the shame that's felt by student debtors across the country." She continued, "we hope to emulate some of the amazing advances we've seen in recent years from the LGBTQ community - the simple act of "coming out" can have a profound affect on how others perceive you. If more people came out with their student debt, then maybe we can turn the dial and help to usher in real, concrete change."
According to Kyle McCarthy, Co-founder of StudentDebtCrisis.org, "Today, 41% of student borrowers are delinquent at some point within five years of graduating. The impact of millions of Americans being unable to pay has devastating consequences, both personally and to the economy. With so many people overwhelmed with student debt, it's vitally important that people come out of the shadows and share how student debt affects their everyday lives."
"With over $1.2 Trillion in outstanding student loan debt in America, we know that student debt creates an enormous drag on economic growth," Applebaum said. "As a result of these debts, nearly 40 million Americans aren't buying homes or cars, starting businesses or families, or otherwise meaningfully contributing to the economy."
To find out more about the #OutWithStudentDebt Video Project, interested parties are encouraged to visit StudentDebtCrisis.org.
Background:
StudentDebtCrisis.org is a non-profit, 501 (c)(4) organization dedicated to fundamental reforms to the way in which higher education is paid for in America. At the core of its mission is an ironclad conviction that higher education should be a right, not a privilege reserved only for the rich or those willing to bury themselves under massive amounts of student loan debt. A well-educated citizenry is a national security issue, as well as a certain pathway to economic growth. StudentDebtCrisis.org is committed to chipping away at the status quo through a series of initiatives and social media outreach and also champions a number of much-needed reforms to the student lending system, including the restoration of basic consumer protections, such as bankruptcy protections, that have been curiously stripped away from student loans.