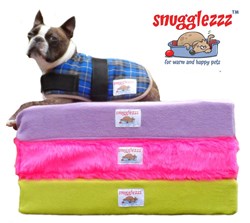 We decided right from the start that we were not only going to produce very high quality hand made products, but we were also going to work with self-employed professionals and pay them fairly for the work they do.
Eye, Suffolk (PRWEB UK) 9 August 2013
There have been Facebook campaigns. There have been Tweets. The snugglezzz team have talked directly to customers to find out just what they – and their pets - need. And now, the wait is over - the snugglezzz.com website now features the new range of made-to-measure dog coats and high quality solid memory foam dog beds.
The British weather is known for its unpredictability – but even by UK standards 2013 is a year we'll find hard to forget. Many pets (and owners) across the UK shivered through freezing winter days, continued to shake through the longest, coldest spring in at least a generation, and during July and August, experienced a heatwave to outclass even the famous summer of 1976.
The weird and wacky weather kept people on their toes - and the team at snugglezzz has risen to the occasion. Back at the beginning of the year, heated pet beds were flying off the shelves; in the last few weeks, pet cooling pads have been equally popular.
Of course, this being the UK, even summer means there are occasional showers – which is where the snugglezzz range of quality dog coats really come into their own. It is so easy to be the best-dressed dog in town when it's time for walkies with a made-to-measure dog coat service from snugglezzz. Measurements are taken from the back of the neck to the base of tail, plus full girth of the chest for a perfect fit. Under a water resistant outer layer to keep out wind and rain, a double fleece lining ensures comfort and warmth. Every item is not just washable and hard wearing, but also made with great attention to detail and quality.
Coats are finished with care and attention to stitching, trim and fasteners – offering peace of mind for pet and owner. There are a number of fabric choices, which include traditional tartan, water resistant polyester, or super warm fleece. Dogs will look more adorable than ever – and most importantly, be protected from the elements.
When walkies is over, there's nothing nicer than sinking into a snug memory foam dog bed to rest those weary muscles. Each snugglezzz bed uses solid memory foam, not shredded. The top layer moulds perfectly to each pet, combined with the high density bottom layer, offering genuine orthopaedic support.
All mattresses have water resistant covers which are finished and sewn by hand to seal, and don't forget each memory foam pet bed includes a range of unique mattress and bolster covers in great colours and fabrics. Recent surveys revealed that people value choice – whether it's traditional blue or brown, aubergine or mauve, or more individual colours like mad pink or honey faux fur or hard wearing blue denim.
Add extra comfort and safety with a bolster cushion, which can also be removed easily from the mattress – especially useful if a dog or pet needs to be transported to and from the car or crate. Beds come in a range of sizes to suit, from extra small to extra large, and as an added bonus snugglezzz will ship all products free to the UK.
Rest assured, snugglezzz do well on the ethics front too – all beds and coats are made by independent self-employed people who not only love animals, but work from their own home with their own equipment. Andrew Long, Marketing Director for the snugglezzz range comments on why this is such a fundamental part of their business.
"To achieve the best end result you must also be consistent in carrying through with the important ethical and moral values of the business. Right from the start, snugglezzz decided that we were not only going to produce very high quality hand made products, but we were also going to work with self-employed professionals and pay them fairly for the work they do. If they make a good living and are happy in the work they do, the end product and the working relationship will be that much better and that much stronger. This is so important to us moving forward."
And all of this good work can be seen by visiting the team at events around the UK. Why not go down to Norfolk on the 25th or 26th August and call in to see the snugglezzz team in person – they'll be at the 'All about dogs show' in Norwich http://www.allaboutdogsshow.co.uk/Norfolk_show_info.htm and the stand will showcase all of their products.
Don't forget that Snugglezzz.com is open for business 24/7 – for your convenience you can pay by PayPal via credit or debit card – and for peace of mind, all website transactions are verified by Volusion, so all account details are safe and secure.