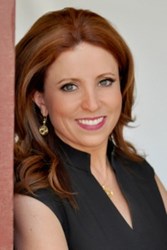 Her passion for helping individuals better their financial success radiates through her work and inspires others.
El Paso, TX (PRWEB) August 08, 2013
Contact: Sheila Owens, NAIFA
mbriscoe(at)naifa(dot)org; 703.770-8112
NAIFA's Advisor Today Recognizes Outstanding Advisors
with 'Four Under Forty' Award
Profiles of winners appear in September/October 2013 issue of Advisor Today
Advisor Today magazine has recognized four financial advisors with the "Four Under Forty Award," given annually to four outstanding advisors who achieve excellence in their profession by or before the age of 40. The advisors will be profiled in the September/October 2013 issue of Advisor Today, which will be distributed to attendees of NAIFA's 2013 Career Conference and Annual Meeting in San Antonio in September.
Advisor Today, published bimonthly by the National Association of Insurance and Financial Advisors, solicits nominations of NAIFA members with successful careers and strong commitments to family and community.
"The advisors who join the ranks of Four Under Forty exhibit strength and character, and an unwavering commitment to professional excellence in our industry," said Dr. Susan Waters, CAE, NAIFA's CEO. "We appreciate their hard work and dedication to the industry and to NAIFA. It is clear they are on a path to continued growth and success."
Ayo Mseka, Advisor Today's editor-in-chief, said: "The four advisors selected have dreamed big dreams, built successful practices, and given back to NAIFA and their communities. They are shining examples of how the best in the business accomplish great things through hard work and a drive to succeed in both their personal and professional lives."
The 2013 Four Under Forty winners are:
Elizabeth Dipp Metzger, registered investment advisor, New York Life
NAIFA-El Paso, Texas
Elizabeth Dipp Metzger, 37, rose from an agent to a registered representative and then registered investment advisor in just 18 months. Her production standard in the New Organization of El Paso's New York Life General Office is unprecedented, according to her nominator, having earned the New Org of the Year award just nine months after her arrival. Among Dipp Metzger's other awards are the Platinum Producers Award for New York Life LTC, Career Life and Long Term Care Success and Producer awards, and the LTC Foundation Award. Dipp Metzger is active in NAIFA and twice was named New York Life's NAIFA Rookie of the Year. According to her nominator: "Elizabeth has taken a personal interest in mentoring other New Org agents in developing their skills, knowledge and fostering their own success. … Her passion for helping individuals better their financial success radiates through her work and inspires others throughout the El Paso General Office to follow suit."
Robert E. Donlan, CLU, Chief Operating Officer, The Hancock Group, Inc.
NAIFA-Altoona, Pa.
Robert Donlan holds several titles at the age of 37: COO of The Hancock Group, Inc.; Brokerage Manager for the Allan Hancock Agency, Inc.; President of Hancock Capital Management; and Executive Director of The Argyle Group, Inc. Donlan joined The Hancock Group full-time in 1997, and became brokerage manager for the Agency in 2001, managing brokers from Pennsylvania, Maryland, Virginia, New Jersey and the New England States. He holds several licenses, and serves as president of The Argyle Group, a non-carrier-dependent producer group based in Altoona, Pa. Donlan sits on the board of NAIFA-Altoona after having served as both president and treasurer. He is active in several community and youth groups, and has been recognized as a distinguished professional by a number of local business organizations including the Blair County Chamber of Commerce. According to his nominator, Donlan "has motivated others to strive to be team players and to think outside the box."
Joseph Tavernite, CLF, Associate Managing Partner, New England/MetLife
NAIFA-Greater Metro Region
Joseph Tavernite, 39, began his career at Mutual of New York at age 21, where he was recognized with the Rookie of the Year Award in 1997. After three years of production, Tavernite was asked to make the switch to firm management and has worked in that role ever since. He has received numerous GAMA awards, and in 2010 was selected as the NAIFA Greater Metro Person of the Year. Tavernite was president of NAIFA-New York City and currently sits on the board. He has excelled in recruiting new NAIFA members and communicating the industry's messages on Capitol Hill. Tavernite currently serves as associate managing partner at MetLife's New England Wealth Strategies firm where he built a team of nine advisors and 70 percent team retention. Tavernite also is active in the local chamber of commerce in Long Island, and serves as president of NAIFA Greater Metro Region and State Trustee for NAIFA-New York. According to one of his nominators, Tavernite "is the ultimate hard-working professional that the insurance industry wants and needs."
Mark E. Wise, CLU, ChFC, Field Director/Wealth Management Advisor, Northwestern Mutual
NAIFA-Indianapolis
Mark Wise, 37, joined Northwestern Mutual as an intern 14 years ago, and has risen to the Top 100 out of 6,500 representatives in numerous categories. Among his accomplishments is recognition as a "Forum" member (top level of production) for the past six years. This last year, Wise was one of three advisors awarded the Financial Security Award in the Central Region. Wise also is involved in his community through volunteer work with the United Way and Timmy Global Health, an Indianapolis-based nonprofit organization that expands access to healthcare around the globe. Said one of his nominators: "Mark's top priority is to help his clients turn their aspirations into reality. … Mark's approach and guidance becomes as unique as the individual he is serving."
Look for the cover story on these outstanding advisors in the September/October 2013 issue of Advisor Today.
About Advisor Today: Founded in 1906 as Life Association News, Advisor Today is the official publication of the National Association of Insurance and Financial Advisors. Our mission is to provide practical information, sales ideas, resources and business strategies to help insurance and financial advisors succeed.
About NAIFA: Founded in 1890 as The National Association of Life Underwriters (NALU), NAIFA is one of the nation's oldest and largest associations representing the interests of insurance professionals from every Congressional district in the United States. NAIFA members assist consumers by focusing their practices on one or more of the following: life insurance and annuities, health insurance and employee benefits, multiline, and financial advising and investments. NAIFA's mission is to advocate for a positive legislative and regulatory environment, enhance business and professional skills, and promote the ethical conduct of its members.
Sheila Owens
VP - Communication & Marketing
National Association of Insurance and Financial Advisors | sowens(at)naifa(dot)org
2901 Telestar Court | Falls Church,VA 22042
703-770-8112 | Fax 703-770-8411
http://www.naifa.org