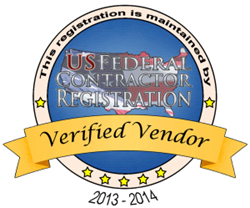 Orlando, FL (PRWEB) August 08, 2013
US Federal Contractor Registration is announcing a high number of contracting opportunities posted to FedBizOpps for the state of Mississippi. There are currently over 215 available solicitations up for bid. Only properly registered government contractors are allowed to submit their bids to win these contracts. Contracting officers in the state of Mississippi have already awarded registered contractors over $3 billion during the 2013 fiscal year, with a total of 47,770 transactions.
To help level the playing field and give all vendors a fair shot at government contracts GovernmentContractingTips.com created this guide for small businesses. Max K. Timko, host of 'The SAM Assistance Program,' quoted, "The guide will introduce new vendors to the information and provide strategies that will carry them from just thinking about government contracts to actually placing their first bid. Simply located on the top menu bar of Government Contracting Tips.com, this is an extremely knowledgeable source for businesses interested in learning more about government contracting. It is a definite must read for small businesses!"
So far, the federal government has spent over $239.0 billion on contracts in 2013 to date. With all the available bidding opportunities, US Federal Contractor Registration suggests businesses become registered properly in order to bid on these awards. Since Phase 1 of System for Award Management started, US Federal Contractor Registration (USFCR) has migrated previously registered contractors from CCR to SAM to make sure their business continues to qualify for government contracts and federal set-asides.
In an effort to help new and struggling vendors find success in government contracting, the "First Steps to Government Contracting" guide contains links to articles covering subjects such as researching the federal marketplace, contractor registration, marketing to government agencies and placing bids on contracts. The videos of 'The SAM Assistance Program' are provided to break down specific sections that can easily be viewed and referenced. No business should start the registration process in System for Award Management (SAM) before consulting the 'First Steps' webpage. There are sections that are broken down into lessons to easily guide visitors through the forum. The guide mentions several ways to connect with federal procurement officers, stay updated on available contracts, and learn about current set-asides a business can qualify for.
US Federal Contractor Registration will be currently offering a free evaluation and review of vendors' government registration. During the evaluation, a Placement Specialist will review the company's government contractor registration to ensure it is complete, contains the correct information and is optimized to help them win government contracts. This free evaluation special will only be available to businesses for a limited amount of time.
US Federal Contractor Registration is a third party registration firm with corporate offices in Orlando and Saint Petersburg, FL that has helped thousands of businesses complete their SAM registration and bid on contracts. US Federal Contractor Registration pairs businesses with a dedicated case manager who helps them every step of the way from initial registration to bidding on contracts. US Federal Contractor Registration's Google + page and Twitter page is available for contractor outreach and inquiries. To request a free evaluation and assessment by a Placement Specialist for your business, call the Contractor Helpline at (877) 252-2700 ext 1 or visit our website at https://www.uscontractorregistration.com/.