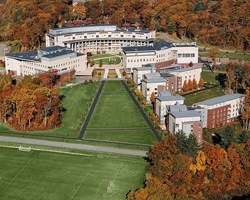 (PRWEB) August 08, 2013
Alisha Sarang-Sieminski, associate professor of bioengineering at Olin College of Engineering, has been named director of the college's Senior Capstone Program in Engineering (SCOPE).
Prior to the appointment, Sarang-Sieminski served as a faculty advisor and, from 2011, as assistant director of the program. SCOPE brings together student teams and corporate sponsors in a consultancy relationship that is one of the defining experiences of the Olin curriculum. Sarang-Sieminski succeeds Andrew Bennett, associate professor of mechanical engineering, who directed the program since 2010 and who will be returning to the full-time faculty to teach and continue his robotics research.
"I am very pleased that Alisha has accepted the appointment as SCOPE director," said Vincent P. Manno, provost and dean of faculty. "She has already made important contributions to SCOPE, and she will now be in a position draw on this experience and the internal and external relationships built by her, her predecessors and the SCOPE staff to take the program to new heights."
As assistant director, Sarang-Sieminski focused on improving the internal infrastructure of the program to enhance the student experience. In her new role, she will continue to focus on strengthening the pedagogical aspects of SCOPE to make it a culminating experience that integrates the Olin curriculum. She will also build upon the work of Bennett and Prof. David Barrett, the first SCOPE director, to maintain the excellent reputation of the program and strong partnerships with sponsors.
"I'm truly excited about the appointment," said Sarang-Sieminski. "I believe in SCOPE for the excellent experience it provides for our students and the value it provides for sponsoring companies. As director, I will work to improve connections within the curriculum and enhance the student experience. In doing so, I will be able to build on the great work of my predecessors and continue to strengthen the program."
In addition to her work with SCOPE, Sarang-Sieminski, who joined Olin in 2005, has taught a range of bioengineering courses that includes biotransport, thermodynamics of biological systems and tissue engineering. Her research program focuses on understanding the importance of biophysical properties on cellular behavior for tissue engineering applications. She joined Olin from the Biological Engineering Division at MIT, where she was a Ruth L. Kirschstein National Research Service Award post-doctoral fellow. She received her Ph.D. in bioengineering from the University of Pennsylvania and a B.S. in chemical engineering from MIT.