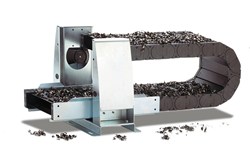 East Providence, Rhode Island (PRWEB) August 07, 2013
igus® Inc., a worldwide leader in cable carriers, continuous-flex cables, plastic bushings, self-aligning bearings and linear guides, will be exhibiting at the 23rd World Mining Congress, booth 1614 , from August 11 – 15, 2013 at The Palais, in Montreal, Canada. Under the theme "Heavy Plastics", visitors to igus' booth can learn how to integrate a wide range of products to solve their most demanding manufacturing challenges in automation and robotics in the construction and mining industries. New products on display include new igus E4-1 Energy Chains® and fully enclosed RX Tubes.
The E4-1 Energy Chain System® combines all the benefits of its three predecessors —increasing service life and lowering costs for end users. E4-1 offers smooth, cable-friendly inner surfaces and a low-noise operation thanks to noise-absorbing sound dampers featured on its radial stop dogs. Other features include a wide range of interior separation options, a large accessory kit, extension links, and potential travel distances over 650 feet.
RX Energy Tubes are specially designed for the machine-tool industry. It is nearly 100 percent chip-proof and its smooth, domed outer contour ensures all debris, such as metal chips, simply falls off. A series of comprehensive tests—including underwater experiments and tests measuring chip-mass penetration—have been carried out in igus' test laboratories to confirm the Energy Tube is nearly 100 percent airtight. Despite its rugged design, the RX Energy Tube can be easily opened using a screwdriver to unscrew bolts integrated into the outer radius of each link.
Other noteworthy products to be displayed at the show include: Chainflex® continuous-flex cables, ReadyChain pre-assembled cable assemblies, plastic cable carriers with aluminum lids, and others with integrated rollers for exceptionally long travels, as well as new versions of igus' Triflex R multi-axis cable carriers for robots. Visitors to the show should also check out the company's iglide® geared PRT slewing rings.
About igus
igus® develops industry-leading Energy Chain® cable carriers, and Chainflex® continuous-flex cables, DryLin® linear bearings and linear guides, iglide® plastic bushings, igubal® spherical bearings. These seemingly unrelated products are linked together through a belief in making functionally advanced, yet affordable plastic components and assemblies. With plastic bearing experience since 1964, cable carrier experience since 1971 and continuous-flex cable since 1989, igus provides the right solution from over 80,000 products available from stock. No minimum order required. For more information, contact igus at 1-800-521-2747 or visit http://www.igus.com.