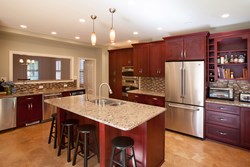 "If I cannot see it. How can the average person see it?" said film maker Johnathan Zuck.
Washington DC (PRWEB) August 13, 2013
Leading design build contractor in the DC metro area, Signature, Kitchens, Additions & Baths gave DC film maker, Jonathan Zuck's 1930s style kitchen design a much needed makeover. Signature's skilled kitchen & bath designers & craftsman completely transformed Zuck's Cleveland Park home to fit his complex & unique kitchen needs with a home addition far smaller than Zuck had anticipated.
As an avid film maker and photographer, Jonathan's house is more than a home for him. It serves as a film & photography studio, where technicians, actors and associates were coming and going day and night, as well as a space for regularly entertaining guests. Dinner parties are quite common in the Zuck household.
Before contacting Signature, Jonathan was convinced that a grand home addition was the only reasonable solution for his kitchen woes. Where to begin was Jonathan's problem. As a film maker & photographer you would think that envisioning the home addition or kitchen addition would have been much easier. Jonathan readily admits that it was a real struggle. He said more than once "If I can't see it how, can the average person see it."
Jonathan contacted Signature Kitchens Additions & Baths because as he put it "Kitchen Additions" is [their] middle name. He met with Ellyn Gutridge one of Signature's most perceptive bath & kitchen designers. Initially Jonathan maintained his vision for a house addition which would run the entire width of the rear of his house and be significantly deep 18' to 20' by almost 40'. Such an addition to the house would have been 600 square feet, very expensive and overpowering.
The design expert Ellyn Gutridge asked that he put the size of the house addition off for a while. "Let's just focus on the kitchen design, first your wants and needs and then the design, kitchen cabinets, species & other finishes such as floors & windows. Most of our customers agree that the smartest addition to the house should not weigh down the original. We should focus on delivering the maximum benefits in the minimum space. For example you really want a kitchen island you can entertain and also dine at. The kitchen design will dictate the wrapping i.e. the size and shape of the addition"
Listening to Ellyn's advice, Jonathan opted to remodel his quaint 1930s kitchen thinking of design before size and could not be happier with the results.
About Signature Kitchens, Additions, & Baths:
Signature Kitchens, Additions, & Baths is a leading design build remodeling contractor located in Rockville, MD. Signature has a 4,000 square foot interactive kitchen and bath showroom with experienced kitchen and bath designers ready to apply their creativity to help customers achieve design remodeling aspirations. A three step process is applied to all design work to achieve an optimal design that fits within a customer's budget. Signature represents a wide range of semi-custom & custom cabinetry as well as tile, flooring, lighting, counter tops and appliances. The majority of their work is performed by their in house craftsmen whose average tenure with the firm is in excess of eight years. Signature also works with independent Architects, Remodeling Contractors and Designers. For more information visit the company's website.