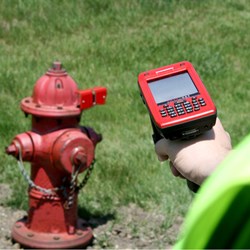 Libertyville, Ill. (PRWEB) August 09, 2013
Today William Frick & Company, a leading supplier of Radio Frequency ID (RFID) technology, announced the release of the SmartCAT™ Asset Tracking System. The all-in-one, fully configurable asset management system is an affordable, intuitive solution for automated data collection utilizing RFID, barcode and GPS technologies.
The new SmartCAT system, which combines an automatic data collection app and a ruggedized handheld RFID reader, is ideally suited for use by municipalities and utilities, as well as in industrial and healthcare markets. Customers can save considerable time and reduce errors by replacing handwritten maintenance and inspection reports, surveys and inventory sheets, greatly increasing efficiency and productivity.
The fully configurable SmartCAT app organizes information collected on the touchscreen-equipped handheld reader. Frick's "out-of-the-box" system doesn't require specialized software or service contracts. Users define what data to collect with a choice of input methods, including RFID, barcodes, digital camera, GPS and menu-guided keypad entry with programmable mandatory data fields to prevent incomplete reports.
"Many industries rely on manual labor with paper data collection systems that are difficult to integrate, easy to lose and prone to inaccuracies, often risking costly penalties for incorrect or outdated information," said John Poplawski, Product Development Manager, William Frick and Company. "Our SmartCAT system employs user-friendly software to automate data collection, ensuring accurate reporting even with hard to identify assets in harsh environmental conditions."
The SmartCAT Asset Tracking System is designed to work with Frick's specialized, SmartMARK™ RFID tags and labels, which are abrasion-resistant, solvent-resistant and offer excellent read performance up to 30 feet away. This fast, reliable data collection system was developed with real-world design input from public works employees and Frick's customers across a range of industries.
Many municipalities across the U.S. conduct regular fire hydrant inspections. In a typical manual fire hydrant inspection process, a technician arrives at each hydrant with a clipboard, pen and paper survey of maintenance items. After performing an inspection and writing the results, the handwritten sheets are submitted to the asset manager who enters the survey results.
However, the process of inputting data from paper inspection surveys into a computer program is tedious and time-consuming, especially if the handwriting is illegible or the data is incomplete. With a permanent RFID tag mounted to each hydrant carrying a unique ID number, public works employees can quickly scan the hydrants with a handheld reader to automatically populate survey data, saving a significant amount of time and money.
For example, a medium-sized community of 10 square miles and 15,000 residents can contain more than one thousand fire hydrants. Assuming a time savings in the field of just one minute per hydrant, and three minutes entering the data from each survey, the public works staff in such a community could save at least 133 man-hours per year using the SmartCAT Asset Tracking System in a biannual inspection program. In addition to saving time, SmartCAT positively verifies the hydrant was visited and the inspection performed.
Municipalities also may find the SmartCAT system beneficial for such applications as inspection and maintenance of traffic signs, street lights and construction inventory management. Because the system complements SmartMARK RFID tags, which are designed for optimum field performance, implementing the solution does not require any prototypes or guesswork.
Key SmartCAT Features:

Turnkey asset management system for fast and accurate data collection
Long-range, multi-tag RFID read capability with rugged handheld reader
Use of mandatory fields to ensure complete data
Universal, non-proprietary data format export (XML)
User-friendly, customer configurable interface
3-year warranty protection
For more information, visit http://www.smartcatrfid.com. For a limited time, visitors to the website can register to win an iPad and receive an RFID tag kit coupon worth $125.
About William Frick & Company
A leading manufacturer of customized identification products including RFID tags, barcode labels, signs and utility markers, William Frick & Company is a trusted supplier to the logistics and telecommunications industries, oil and gas companies, electric utilities, OEMs and governments. Specializing in custom design, manufacturing and advanced testing technology, Frick offers best-in-class ISO 9001-2008 certified identification products and services. For more information, call (847) 918-3700, or visit the company's website at http://www.fricknet.com.