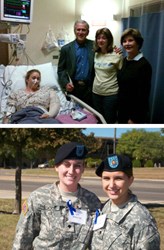 By the grace of God, I was able to save a woman's tubes and ovary so she can go on to have as many children as she desires.
Roswell, Georgia (PRWEB) August 13, 2013
According to court documents in the case of The United States of America (Plaintiff) v. Nidal M. Hasan, (Defendant) in The United States District Court for the Western District of Texas, U.S.D.C. No. 6:12 - CV - 195, Dr. Curt Misko, an Army physician stationed at Ft. Hood during the Texas shootings, has been subpoenaed to testify in the trial this month.
According to court records, Dr. Misko was in the hospital when a Mass Casualty alert was sounded, at which time a female patient was admitted to the ER with multiple gunshot wounds. As is standard with Army physician training, even specialty surgeons receive Advanced Trauma Life Support training, which enables them to treat patients with any number of wounds in extreme circumstances.
This patient was allegedly suffering from pneumothorax, a life threatening condition that causes the heart to stop if not immediately treated. According to court records, Dr. Misko treated this condition before resupplying blood flow to her wrist, which had also been damaged due to another gunshot wound to her arm, according to court documents.
Once the patient was stabilized and out of immediate danger, court records show that the patient was moved to the next level of triage. After all life-or-death patients were treated, Dr. Misko allegedly visited her, only to find that her health had deteriorated from stabilization. At that point, court records show that Dr. Misko ascertained that a bullet had entered her abdomen and immediate surgery was required. Court records also show that both her tubes and her ovary had also been damaged. Dr. Misko allegedly began sewing the patient's tubes and ovary back together, praying it would be a successful surgery, while a general surgeon allegedly worked on repairing her abdomen.
According to court records, Former President George W. Bush and First Lady Laura Bush arrived at the hospital later that evening to visit the victims of the Fort Hood shooting. A photo taken by Dr. Misko with his patient, Dayna Ferguson Roscoe, is shown here.
Dr. Curt Misko summarizes with, "I saw my patient much later and am thrilled to report that both her tubes and ovary were saved. I was awarded the Army Achievement Medal, as were many others, as a result of our efforts that day. But the most rewarding part was knowing that, by the grace of God, we not only helped save so many lives, but I was able to save that young patient's tubes and ovary so she can go on to have as many children as she desires."
About Dr. Misko: Dr. Misko graduated with honors from Auburn University after an enlistment in the Marine Corps. He was then accepted to the Uniformed Services University of the Health Sciences Medical School in Bethesda, Maryland. After graduation, he was commissioned a Captain in the United States Army as a Medical Corps Officer. Dr. Misko then graduated from Madigan Army Medical Center specializing in Obstetrics and Gynecology having received the Academic Excellence Award as Chief Resident, where he also received specialized OB/GYN training in urogynecology and female pelvic reconstructive surgery.
About Cherokee Women's Health Specialists: Cherokee Women's Health Specialists is a full service obstetrics and gynecology practice serving the Canton, Woodstock and Roswell areas, founded by a doctor and focused on partnering with patients to provide the best health solutions available. With five highly accredited gynecologic surgical specialists, a nurse practitioner and a seasoned midwife, Cherokee Women's Health Specialists offer only the most effective treatments in women's health care, ranging from ground-breaking surgical innovations to honest, common sense advice regarding patient choices for lifelong health and well-being. Their specialties include urinary incontinence, heavy bleeding, pelvic pain and vaginal rejuvenation.
To schedule an appointment or for more information, call 770.720.7733 or the Roswell number at 770.545.8550. Or, visit them online at cherokeewomenshealth.com. The Roswell office is located at 1305 Hembree Road, Suite 202 in Roswell, Georgia.