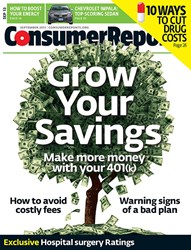 Yonkers, NY (PRWEB) August 07, 2013
In Consumer Reports' latest tests of cereals, two store brands, Market Pantry Frosted Shredded Wheat (Target) and Great Value Raisin Bran (Walmart), tasted Very Good and were deemed CR Best Buys, beating out name-brand products from Kellogg's and Post. Of the 26 cereals tested, most of them rich in fiber, more than two-thirds were Very Good or Excellent in taste.
The full report and ratings of cereals are available in the September 2013 issue of Consumer Reports and online at http://www.ConsumerReports.org.
"The taste of fiber-rich cereals has come a long way," said Maxine Siegel, Food Testing Team Leader at Consumer Reports. "In our latest tests, we found that you can buy shredded wheat and raisin bran by price, not name brand, and still expect similar quality in taste and nutrition."
Overall, 18 cereals tasted at least very good or better in Consumer Reports' latest tests, and 11 were Very Good or Excellent for nutrition. Bear Naked Fruit and Nut granola was the only cereal that was excellent for taste, with clusters, pecans, walnuts, almonds, raisins, cranberries, sesame seeds, coconut slivers, brown sugar, honey and cinnamon. But its overall nutrition was fair - 140 calories and two grams of fiber per quarter-cup serving.
Granolas, often thought of as healthy, are among the highest in calories and fat. The granola cereals Consumer Reports tested had up to ten grams of fat per serving, compared with one gram in the other types of cereals.
Four cereals were both very tasty and very nutritious based on calories, fat, sodium, sugars, iron, calcium, and fiber: Kellogg's All-Bran Original, Post Grape-Nuts The Original, Post Shredded Wheat Original Spoon Size, and Post Shredded Wheat Wheat n' Bran Spoon Size.
Consumer Reports is the world's largest independent product-testing organization. Using its more than 50 labs, auto test center, and survey research center, the nonprofit rates thousands of products and services annually. Founded in 1936, Consumer Reports has over 8 million subscribers to its magazine, website and other publications. Its advocacy division, Consumers Union, works for health reform, product safety, financial reform, and other consumer issues in Washington, D.C., the states, and in the marketplace.
AUGUST 2013
© 2013 Consumer Reports. The material above is intended for legitimate news entities only; it may not be used for advertising or promotional purposes. Consumer Reports® is an expert, independent nonprofit organization whose mission is to work for a fair, just, and safe marketplace for all consumers and to empower consumers to protect themselves. We accept no advertising and pay for all the products we test. We are not beholden to any commercial interest. Our income is derived from the sale of Consumer Reports®, ConsumerReports.org® and our other publications and information products, services, fees, and noncommercial contributions and grants. Our Ratings and reports are intended solely for the use of our readers. Neither the Ratings nor the reports may be used in advertising or for any other commercial purpose without our permission. Consumer Reports will take all steps open to it to prevent commercial use of its materials, its name, or the name of Consumer Reports®.