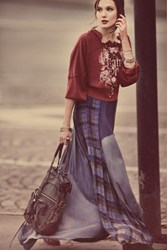 Seattle, WA (PRWEB) August 08, 2013
Due to overwhelming popularity in the Seattle market, specialty clothing brand Free People, is relocating its store at Bellevue Square to a significantly larger space. The original boutique opened in August 2008, and five years later, the store will reopen in a new space at the shopping center on August 9th, 2013. Moving to the first level near center court, the space is triple the size of its current location, and will allow the brand to grow its product offering for Seattle shoppers.
The new to 3300 sq. ft. space will be designed in the brand's "Boho Glam" store concept, which features mica plaster, rough sawn columns and beams, and wide planked reclaimed wood floors. Welcoming shoppers into the space will be a white wood slat storefront with Free People signage in a weathered brass. On the shopping floor, the store will boast larger fitting rooms and a dedicated area for the brand's growing label, Intimately Free People. The overall feel is rustic, but feminine and bohemian to reflect the Free People customer.
Fans are invited to the new store for a celebration on opening day, August 9th from 5-8pm. Guests will have the chance to win Free People gift cards throughout the evening, enjoy refreshments, and try their hand at a special DIY project.
Those shopping the new location can expect to find a wide assortment of pre-fall must-haves. Jackets and coats in a variety of silhouettes and fabrications will be well stocked, as will wide brim hats perfect for fall. Both pair back nicely to the store's offering of bohemian maxi dresses and skirts, as well as knits with special detailing as only Free People can do. The brand's coveted denim line will be available with flare, skinny, and boyfriend shapes in a variety of washes and prints.
Each of the brand's boutiques has a full team of styling experts to help shoppers get a complete Free People look, but inspiration can also be found with Free People's online Community, FP Me. This offers all Free People girls a way to share their personal style, create looks, curate collections, and connect with other FP fans. Shoppers in Seattle can now shop FreePeople.com or Bellevue Square boutique and share their wears with a global fashion community through FP Me.
With the relocation, the store's phone number has changed to 425-450-8873. The store address will become, 1056 Bellevue Square, Bellevue WA 98004, and store hours will continue to run Mon-Sat 9:30am-9:30am and Sun 11am-7pm. Fans who don't already, should be sure to "like" the store on Facebook to stay up to date on all of the latest happenings (https://www.facebook.com/freepeoplebellevue).
About Free People
Free People is a specialty clothing brand featuring the latest trends and vintage collections for women who live free through fashion, art, music, and travel. The bohemian look consists of quality apparel, shoes, and accessories that invoke attributes of femininity, spirit, and creativity with its design. Free People is distributed globally via direct channels including the Free People Global site and Free People UK site, as well as specialty boutiques, top department stores, and the brand's free standing retail locations in the U.S. and Canada.
About The Bellevue Collection
Located in the heart of Bellevue, Washington, The Bellevue Collection, owned by Kemper Development Company, includes Bellevue Square a super-regional upscale shopping center, Bellevue Place, a mixed-use property featuring the Hyatt Regency Bellevue and small boutiques and Lincoln Square anchored by the Lincoln Square Cinemas, restaurants, home furnishings and The Westin Bellevue hotel. With a distinctive collection of 250 shops and restaurants, a 16-screen premier cinema, 1,100 luxury hotel rooms and 10,000 free retail parking spaces, all in one location, The Bellevue Collection is shopping, dining and nightlife and entertainment experience unlike any other in the region. It is located on Bellevue Way between NE 4th and NE 10th Streets in downtown Bellevue, just across Lake Washington from Seattle.