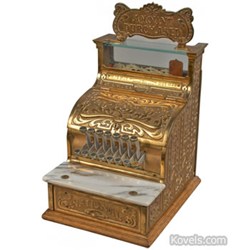 Cleveland, OH (PRWEB) August 08, 2013
The Kovels.com Top 20 list indicates the current interests of collectors who visit the website. During July 2013, antique enthusiasts were busy researching:
1. Occupied Japan
2. Coca-Cola
3. Fenton
4. Bottle
5. McCoy
6. Stove
7. Bavaria
8. Capo-Di-Monte
9. Belleek
10. Dresden
11. Hull
12. Milk Glass
13. Carnival Glass
14. Scales
15. Red Wing
16. Nippon
17. Wedgwood
18. Cash register
19. Copeland Spode
20. MZ Austria
A new collectible interest has climbed onto Kovels' list—cash registers. The first cash register was invented in 1879 by brothers James and John Ritty, saloon owners in Dayton, Ohio, to keep employees from stealing from the cash drawer. In 1883, they patented a model that resembled a clock and registered amounts of money. Later improvements were a drawer to hold cash and a roll of paper to record transactions. By the early 1900s, elaborate brass cash registers were made that were works of art.
Cash registers like this one are bought by collectors to add a decorative piece of history to living rooms, home bars, and even bedrooms (as a jewelry box), or to be used in stores decorated in Victorian style. This bronze cash register was made about 1904 by the National Cash Register Co. of Dayton, Ohio. It sold for $1,800 at a Victorian Casino Antiques auction in Las Vegas.
Collectors who search Kovels.com want to learn more about identifying features, marks and prices. Kovels.com and the book, "Kovels' Antiques and Collectibles Price Guide," list thousands of current prices in hundreds of categories that are carefully selected, described and edited.
About Kovels.com
The online website, Kovels.com, created by Terry Kovel and Kim Kovel, provides collectors and researchers with up-to-date and accurate information on antiques and collectibles. Kovels' Antiques was founded in 1953 by Terry Kovel and her late husband, Ralph. Since then, Kovels' Antiques has continually published some of America's most popular books and articles about antiques, including the best-selling "Kovels' Antiques and Collectibles Price Guide," now in its 45th edition. The Kovels' website, online since 1998, and free weekly email, "Kovels Komments," give readers a bird's-eye view of the market through up-to-date news, auction reports, an online Price Guide, a Dictionary of Marks, readers' questions with Kovels' answers and much more.
Contact info:
Liz Lillis
216.752.2252
Pr(at)kovels(dot)com