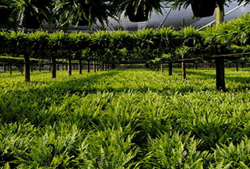 "We started using TruckStops back in the 1990s and since then it has become an integral element of our business." - Peter Hew
(PRWEB) August 12, 2013
Everbloom Growers Inc., a Florida-based producer and distributor of premium-quality tropical foliage and exotic plants, has upgraded to the latest version of the TruckStops vehicle routing and scheduling optimization system from MapMechanics, and proprietor Peter Hew says TruckStops remains a key element in the company's expanding business.
Everbloom Growers delivers its products to thousands of retail outlets every week across a wide area of the United States and Canada, concentrating particularly on the Midwest and Northeast of the U.S.
Although routing and scheduling systems like TruckStops usually tend to be used by businesses running their own trucks, Everbloom Growers relies entirely on external trucking companies to distribute its products. However, TruckStops has proved to be equally successful when used in this way.
"If we have large loads with only a few delivery points, we can schedule them manually," says Peter Hew, "but if there are more than about five call points on a route, it would be far too complicated, and we use TruckStops instead." The company simply schedules the journey with TruckStops, and then passes the resultant schedule to the trucking company that is handling the load.
"We started using TruckStops back in the 1990s," says Peter Hew, "and since then it has become an integral element of our business."
After MapMechanics took over responsibility last year for developing and supporting TruckStops in North America, Everbloom started investigating the current version. "We were intrigued by the latest features, and wanted to ensure we would be eligible for future support."
The current U.S. version of TruckStops has been specifically developed to serve market segments such as direct store delivery (DSD), less-than-truckload (LTL) operations, and over-the-road (OTR) freight.
Most of its features are relevant to Everbloom Growers, which often dispatches consignments of product as back hauls on trucks that are on their way back to their home area. Dozens of different motor carriers are used in the course of a year.
Everbloom dispatches up to 20 loads daily in peak periods, which would pose a near-impossible task if they had to be scheduled manually. Much of the product is delivered direct to retail outlets, which include garden centers, large discount depots, home improvement centers, supermarkets, and multiple retailers. The company also supplies wholesalers. The key requirement is that all delivery vehicles must be refrigerated.
Everbloom is continuing to use TruckStops in combination with PC*MILER, the industry standard for truck-specific routing and mileage software. Since taking responsibility for TruckStops in North America, MapMechanics has retained support for ALK Technologies' PC*MILER. ALK's proprietary and accurate digital map of North America enables TruckStops to calculate routes that reflect realistic travel times between call points.
PC*MILER can also geocode call points (apply longitude and latitude co-ordinates to addresses or other location data), allowing the information to be used in scheduling applications.
Everbloom Growers has more than 100 acres of land under intensive cultivation. It has many specialties including blooming tropical plants, ferns, grasses, and fruiting vines. It employs more than 70 people at four locations in Florida.
MapMechanics, a UK-based software and data specialist with global reach, has been closely involved with developing and distributing TruckStops for 20 years, and has influenced the introduction of numerous new features and refinements for users around the world. Since taking full responsibility for the product worldwide, MapMechanics has set up a new sales and support operation for the U.S. and Canada.