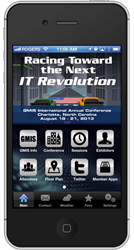 "Mobile applications have become incredibly useful tools in the lives of our citizens and in our municipalities" -Matthew Wainwright
Charlotte, NC (PRWEB) August 08, 2013
GMIS International, the association of worldwide government IT leaders today announced the release of their conference and event mobile applications. The mobile applications were developed to engage attendees and vendors at their annual conference and encourage the eventual elimination of paper programs at this and other hosted events. Included in the app are all conference session schedules, social media feeds, and directories of exhibitors and attendees. In addition, it also includes weather feeds for the host city of Charlotte and a listing of mobile applications developed by other cities.
The GMIS mobile applications were developed with services to allow the association to send push notifications to attendees with late breaking conference news and changes. Push notifications through mobile applications have been recently used in a number of emergency scenarios in municipalities.
"Mobile applications have become incredibly useful tools in the lives of our citizens and in our municipalities," said Matthew Wainwright, 2nd VP of GMIS International. "With the release of these applications, we are looking to showcase how mobile applications can be used to share information and also to engage our membership to think about how they can apply mobile technology in their own government context to better serve their citizens."
The GMIS mobile applications are developed and maintained by Purple Forge. Purple Forge is the world's leading provider of mobile applications to governments, associations, and politicians. Purple Forge has deployed apps in a large number of cities in the US and Canada including Buffalo, Long Beach, Calgary, Ottawa, and Vancouver using a unique content management system that allows municipalities to manage multiple apps across multiple platforms through a single web-based interface.
"GMIS is the go-to organization for sharing the latest technology trends and examples amongst government IT leadership," said Brian Hurley, CEO of Purple Forge. "This mobile application will allow them to encourage greater mobile awareness of their activities with their own members, and in turn this may bring new ideas to the table for communicating with public at large."
The GMIS app is available on iTunes, Google Play, and Blackberry World as a free download.
About Purple Forge
Purple Forge (http://www.purpleforge.com) sells subscription based services to organizations looking to engage their stakeholders using the latest mobile application technology and leveraging community engagement and social networking best practices. Purple Forge is an award-winning firm led by seasoned mobile communications and Internet technology veterans. Our mobile applications allow organizations to broadcast, share, and receive feedback from their target audience real-time, allowing them to foster long-term, engaged relationships.
About GMIS
GMIS International is dedicated to serving public sector information technology professionals to enhance and promote their strategic investment in, and professional management of, government technology resources. GMIS achieves this through providing a networking forum for state and local government and educational entities, both domestically and internationally, to exchange a diversity of ideas and experiences. To further this aim, GMIS also offers opportunities for industry experts to educate its members about emerging technologies and practices helping ensure today's IT leaders are ready for tomorrow's challenges.
With over 450 member groups across 40 states, GMIS International represents the largest professional association of public sector IT leaders in the United States. After its founding in 1971, GMIS began forging relationships with international like-minded organizations that today include entities in Belgium, Canada, the Netherlands, New Zealand, Sweden and the United Kingdom.