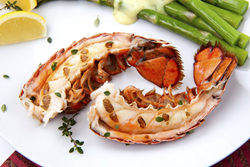 From grilling to baking, these are great ways to enjoy the finest lobster that Maine has to offer.
(PRWEB) August 08, 2013
GetMaineLobster.com, an online lobster delivery service offering next-day delivery of live Maine lobster and prepared seafood meals, provides seafood lovers with tips on how to cook lobster tails. From grilling to baking, these are great ways to enjoy the finest lobster that Maine has to offer.
For all methods, the lobster tails must first be completely thawed as they are flash-frozen to maintain freshness during delivery. To thaw, place them in the refrigerator for 10 hours prior to cooking.
To broil or bake Maine lobster tails, separate all of the meat from the shell except for the intact area at the tail by lifting it up with a sharp knife and placing it on top of the shell. Season the tail with butter or olive oil and cook in the oven at 375 degrees for one-and-a-half minutes for every ounce of meat. Serve immediately with warm olive oil or butter. This method results in an impressive presentation when serving guests.
During the summer months or whenever weather permits, grilling is a great way to educe flavor out of the lobster meat. First, set the grill to medium heat and brush the lobster tails with olive oil or butter and season with salt and pepper. Next, with the meat side down, grill for three to five minutes. Then, flip the tails over for another three to five minutes, being sure to avoid any open flames to prevent burning. The lobster tails are done when the meat becomes opaque.
For the cook with too many things going on at once, boiling lobster tails is a great way to allow for multitasking. Use six to eight cups of salted boiling water for every four lobster tails. Place the lobster into the boiling water and reduce to a simmer, cooking the tails for one minute for every ounce of lobster meat. Finally, remove them from the water, pat them dry, cut the shells from the center to the end using a sharp knife and serve.
To pan sear the lobster tail meat, remove the meat from the shell by cutting lengthwise from center to end with a sharp knife, being careful not to cut the meat in half. In a heavy skillet over medium heat, melt two tablespoons of butter or olive oil and cook the meat for three minutes on one side until the meat on that side of the lobster tail is opaque. Flip the tail over and cook until just opaque. Serve with hot butter or olive oil, lemon and your favoring seasonings, or just eat plain!
There is no better time for seafood lovers to test out one of these delicious ways to cook lobster tails as GetMaineLobster.com is currently offering a special on its Jumbo Lobster Tail Dinner for Two. For just $79.00, a discount of $100.00, this Maine lobster feast includes two seven- to eight-ounce Maine lobster tails, two Maine lobster cakes, two servings of Maine lobster stew, and one 12-ounce heart-shaped triple chocolate cheesecake. Simply enter "JLTDINNERFORTWO" at checkout for the discount to apply.
For more information on how to cook lobster, visit GetMaineLobster.com. Browse its lobster recipes as well as its weekly specials on live lobsters and prepared seafood meals, or call (866) 562-4817 to speak with a representative. Stay updated and Like us on Facebook or follow us on Twitter, and for even more lobster news, specials and recipes, go to JustAddLobster.com.
About GetMaineLobster.com
GetMaineLobster.com, a division of Black Point Seafood and Black Point Gourmet, hand-selects the finest Maine lobster, seafood and beef products for convenient distribution throughout the United States. Their passion is to make fresh, quality seafood readily available to customers across the country, which is why they buy from only the most trusted, well-established suppliers to ensure that they receive the finest products available.
GetMaineLobster.com was selected out of the more than four million small American businesses served by Chase bank to represent its new Platinum Business Checking product for its 2013 national advertising campaign.