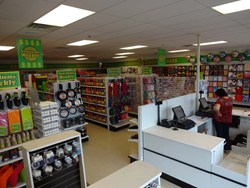 Swedesboro, New Jersey (PRWEB) August 07, 2013
Newly-opened Dollar Express Plus now offers a wide assortment of everything from essentials to accessories at 525 Beckett Road in Swedesboro. Dollar Express Plus is locally owned and operated by Mike Sikoutris and offers traditional dollar store goods plus a selection of unique merchandise, including baby items, balloons, batteries, candles, cleaning supplies, crafts, food items, frames, hardware, hair accessories, health and beauty products, housewares, jewelry, paper products, party supplies, pet care items, toys for all ages, office supplies, and much more.
Thanks to an expansive wholesale supplier network, Dollar Express Plus is able to offer merchandise of a higher quality than would normally be available for only a dollar.
Mr Sikoutris contracted with Dollar Store Services (DSS) to help develop Dollar Express Plus. DSS and their parent company, Discount Retail Store Services (DRSS) are the largest developers of independent dollar stores in the world. They assist entrepreneurs in securing financing, site location, lease negotiation, operations training, and store build out. They also provide access to an extensive supplier network, the lowest price structure in the industry and free marketing and advertising support for as long as the owner likes. DRSS has helped open over 3,000 stores around the world. Their exclusive development process includes all the elements essential to opening a new enterprise. Other DRSS development models include clothing stores, party stores, teen stores, mail box stores, frozen yogurt stores and fitness centers.
According to John LaFronz, DSS General Manager, "Mike has been involved in every stage of his store's development - from choosing the location and merchandise, to undergoing extensive training. His hard work and dedication are sure to make Dollar Express Plus a wonderful addition to the Swedesboro community. We wish him every success!"