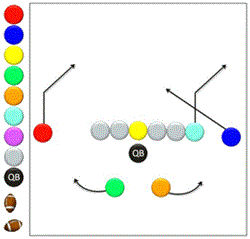 This truly has to potential to change the way football, not just flag football is played, at every level of the game
Colorado Springs, CO (PRWEB) August 09, 2013
Dr G and Flag Football Strategies are pleased to announce the coming launch of their revolutionary flag football play designer application for mobile devices and tablets. This new take on play designing allows coaches to create their own custom package of flag football plays with an unheard of level of ease and efficiency in record time.
The design of the new app allows coaches to create and access plays from their computer, smart phone and tablet. Dr. G has already revolutionized the game once with the introduction of The Wrist Coach and its color coordination system. This new tool utilizes the same principle, but takes things to a whole new level of efficiency, allowing for real time play adjustments and custom packages.
Coaches and coordinators start with a blank slate and are from there the possibilities are endless. Anything from 4 on 4 all the way up to 7 on 7 flag football plays are possible. Using drag and drop technology coaches can position colored markers representing players and assign routes for receivers, offensive backs, linebackers and defensive secondaries. Blocking schemes, option routes and even trick plays are all possibilities; there literally is no limit to what coaches can create.
Once designed, plays can be saved individually or in groups based on formation. Plays can also be assigned characteristic rating based on distance type, situation, formation type, offensive and defensive, run or pass and effectiveness.
Once saved and earmarked with characteristics, coaches can pull up plays instantly based on whatever characteristic they're looking for in that moment of the game. With a few swipes of finger 5 on 5 flag football plays rated well for short yardage clock management can be called up and sorted by effectiveness. Once plays are pulled up, coaches can even enter into an editor setting use the app like a virtual whiteboard, making on field adjustments to formations and routes giving an never before seen fluidity to their flag football playbook.
Flag Football Strategies continues to change the way the sport of flag football is played and this app is no exception. The effectiveness and convenience of the already established flag football play designer coupled with this new mobile app has the potential to give unparalleled advantage on the field. As this app is launched in the coming days, players and coaches can expect to have a new outlook on flag football play design on the sideline and in the huddle.
For more information on this revolutionary play designer visit flagfootballstrategies.com, call 888-233-2250 ext 101 or email info(at)flagfootballstrategies(dot)com.