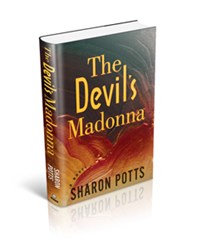 ...a very unusual mystery that unfurls in a few different directions, with enough suspense to keep the pages turning until the extremely disturbing ending. Books groups will find lots to discuss here.
—Booklist, Stacy Alesi
Longboat Key, FL (PRWEB) August 09, 2013
THE DEVIL'S MADONNA
Hardcover, ISBN: 978-1-60809-049-5, Thriller, 340 Pages, $25.95
Digital eBook, All Formats, ISBN: 978-1-60809-050-1, $14.95
Audiobook, Brilliance Unabridged, CD, ISBN: 978-1-46923-128-0, 11 Hrs 24 Mins
Recently, Sharon Potts was asked how she developed the storyline and characters for her latest thriller, THE DEVIL'S MADONNA. Sharon revealed her process and how family and relationships are often the greatest inspiration.
ONE BRUSHSTROKE AT A TIME
"You never know when it will coalesce—a dab of paint here, a brushstroke there—an idea, an image, a vision. Voilà! A blank canvas becomes a novel."
For Sharon, it began with the discovery of an old carton filled with tattered scrapbooks, yellowed newspaper clippings, glossy publicity photos, and one colorized cigarette card of a stunningly beautiful woman—an actress. Her husband's mother. Susi Lanner (her stage name) had been a fairly prominent actress in 1930s Berlin, featured in over a dozen films. She met Sharon's father-in-law, a successful American businessman on the SS Bremen ocean liner in 1936, while she was making a film, Spiel an Bord (Games Aboard.) In 1937, Susi Lanner left Germany, acting, and her name behind, and moved to New York to marry R. Frazier Potts.
Potts had always known about her mother-in-law's career and had even seen a couple of her films, naturally noting how her beauty and grace had been fortuitously transferred to her own daughter. But Sharon hadn't really considered what it must have been like living and working as an actress in Berlin during a period in history that was becoming increasingly dark and threatening. The people she may have met. The undercurrent of fear. The pressure to do and say the right things…or else.
Sharon took another look at the cigarette card of the glamorous actress, her ruffled hat perched jauntily on her blonde curls, and began the first of many online searches. She learned that cigarette cards had been used to stiffen soft cigarette packaging starting in the late 1800s. The cards carried images of actresses, sports figures or other celebrities, and were frequently traded by fans or collectors. There were several such cards with Susi Lanner's picture. What if there had been another beautiful, struggling actress in Berlin at that time? Perhaps just as coquettish and delightful in her public persona as Susi, but on the inside terrified that someone would discover her true, hidden identity. What if this young woman inadvertently became involved with the wrong people and did things that would haunt her and her descendants throughout their lives? And so, from a cigarette card, Leli Lenz was born.
But just having an inspiration for a story isn't enough. Potts needed a triggering incident—something to set her tale into motion. "One night, as I was drifting off to sleep, I had a vision of an old woman with short white hair, a long, graceful neck, and a profile like a valentine cutout. I could see her beside a lace curtain, backlit in her living room window, as yellow lights flickered throughout the house. In her hand, she held a tapered candle. The bright tip touched the lace curtain and it exploded into flames."
Who was this woman? What was she doing? And then the apparition crystallized for the author. She was lighting Yahrzeit Memorial candles. Dozens of candles in every room. But why? Lighting such candles is a practice of observant Jews in memory of the dead. Potts realized the old woman was Lillian Campbell, once a stunning young actress living in Berlin as Leli Lenz, but now a reclusive widow in her crumbling house on Miami Beach. The candles she lit were indeed to commemorate the dead, but also a desperate attempt to atone for the nightmare she believed she'd set into motion, and to free herself from seventy years of guilt. THE DEVIL'S MADONNA was almost ready to emerge.
When beginning a novel, a writer must make a decision. Whose story will this be? Who will have the most to gain or lose? While Leli/Lillian plays a pivotal role, Potts chose to make THE DEVIL'S MADONNA about Lillian's granddaughter. Kali Miller, an artist and a recent convert to Judaism, is happily married and pregnant with her first child. Kali's life changes when she receives a phone call that her ninety-three-year-old grandmother has almost burned her house down. She moves into her childhood home on Miami Beach to care for her grandmother, but also to learn about her roots, now that she is having her own child.
Kali begins her quest to unravel her grandmother's past, never imagining the consequences if the truth comes out. She knows nothing of the tiny painting that Lillian had hidden long before Kali was born—a painting that, if found by certain people, would not only link Kali to a horrifying legacy, but potentially harm her unborn child.
The tension between Kali and Lillian is palpable as Kali probes her grandmother for details about her heritage, increasing Lillian's paranoia that someone has found her and the painting. Lillian's fears spark nightmares and flashbacks to her life in 1930s Berlin. Gradually, Kali begins to discover who her grandmother really was and what this means to Kali and her future.
Kali and Lillian. Two women—different, but alike—and above all, desperate to protect their loved ones from danger.
Guilt, fear, hate and redemption—these are the dabs of paint that swirl around the canvas of The Devil's Madonna.
Can the innocent be guilty? The guilty innocent? Are the sins of the fathers transferred to their children? Should fear turn love into hate? At what point do we forgive? And who should be forgiven?
From many brushstrokes and layers of paint, a novel emerges. An idea, an image, a vision. And many difficult questions."
Sharon Potts is the award-winning, critically acclaimed author of three thriller and two romantic humor novels. A native of New York, Potts graduated from New York University's Stern School of Business. Before migrating to Miami, Potts worked in public accounting. In Miami, Potts served as a managing director of an international staffing company and president of an executive search/accounting recruitment firm.
Pott's is a member of International Thriller Writers and is on the National board of Mystery Writers of America and President of the Florida chapter.
Her career as a mystery/thriller writer began with IN THEIR BLOOD, winner of the Benjamin Franklin Award and recipient of a starred review in Publisher's Weekly, followed by SOMEONE'S WATCHING, THE DEVIL'S MADONNA, SOUTH BEACH CINDERELLA, and GOODBYE NEVERLAND.
Potts lives in Miami Beach with her husband, Joe, and Australian shepherd, Gidget.
Sharon's Website: http://www.sharonpotts.com/
Sharon's books are available through all better booksellers.