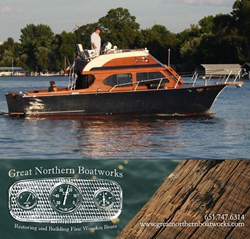 St. Paul, MN (PRWEB) August 09, 2013
Great Northern Boatworks, a wooden boat restoration shop, turned a 1985 33' Skiff-Craft hull boat into a modern, classic cabin cruiser. One of the company's team members, Tim Weber, did so by working with a yacht designer to essentially create a brand new boat, christened Rockin' Robyn. Minimizer CEO and Visionary Craig Kruckeberg commissioned the project in Fall 2011.
Great Northern Boatworks' co-owners Tim Weber, Theo Halvorson, and Russell Roque, are commissioned for wooden boat projects of all different sizes, including dockside, "red carpet" maintenance and repairs. But Rockin' Robyn was different. This has been the biggest project the company has ever completed.
The Rockin' Robyn has a newly built cabin, roof and fly bridge made out of Phillipine mahogany. Teak sole runs throughout the new interior and the galley is equipped with a sink, a refrigerator, Corian® counter tops and a microwave. There are also new electrical and utility systems throughout the boat.
Weber said that the scope of this project was the most exciting aspect. "Nothing was left undone and everything was done in the best way possible. Rockin' Robyn is efficient, user friendly, and up to the proper American Boat & Yacht Council code."
Kruckeberg said, "Great Northern Boatworks is a very professional team. They understood how to restore a wooden boat and the vision we had for it. We are just finishing up some of the final details while I use it, but it's a standout on Lake Minnetonka." He was looking for something different when he found this boat. Previously, it was used as a chartered fishing boat on Lake Ontario.
Weber predicts the boat's future to be long. "Ideally, this is something Craig could pass onto his children, an heirloom to last for generations." Because Great Northern Boatworks does work on wooden boats from the turn of the last century up through today, his prediction may not be that far off the mark.
About Great Northern Boatworks
Great Northern Boatworks is a national wooden boat refurbishing concern located in St. Paul, MN. They are a full service boat restoration shop, experienced in all aspects of wooden boat restoration and repair. They can handle anything from kayaks to cruisers. Great Northern Boatworks consults with each client to design a restoration process that takes into account style, budget, and schedule. They strive to give each client the boating experience he or she wants.