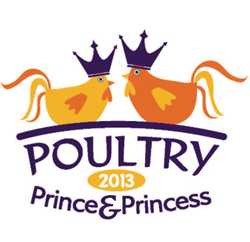 Minneapolis, MN (PRWEB) August 07, 2013
Minnesota 4-H poultry participants will display their superior knowledge of America's favorite protein during the fourth-annual Poultry Prince and Princess Contest from August 22 through August 25, 2013, at the Minnesota State Fair. The scholarship program of Minnesota 4-H and Gold'n Plump will recognize the knowledge, leadership and skills of the state's top poultry youth by awarding two teenagers poultry ambassador titles and $1,000 academic scholarships.
WCCO-TV reporter, John Lauritsen, will once again host the live event at the State Fair's Sheep and Poultry Barn at noon on August 25, 2013. Last year's winners – August Otto and Eleni Solberg – will be present to hand off their royal crowns and capes to the new poultry royalty.
Contestants must compete in the 4-H poultry interview/quiz/showmanship competition, 4-H chicken BBQ contest, and have completed 9th grade by the start of the 2013 Minnesota State Fair for a chance at the titles. The top three female and top three male contestants from showmanship and the BBQ contest will display their confidence and personality by answering four category-specific poultry questions at a final round during the Q&A portion of the event, prior to the coronation ceremony.
The 2013 winners will begin their roles as poultry ambassadors immediately following coronation with an appearance in the Minnesota State Fair parade on the Minnesota 4-H car. Winners will also receive:

$1,000 scholarships
Official portraits in royal garb created by 2013 State Fair artist Marie Olofsdotter
Opportunities to expand speaking, interview and presentation skills through industry and publicity appearances
Online applications must be completed by 10 a.m. on Friday, August 23, 2013, at http://z.umn.edu/4hpoultryprinceprincess.
"Our organization is proud to see this program gain momentum over the years. The Poultry Prince and Princess help educate Minnesota communities about the state's ever-important poultry industry," said Rory Bidinger, brand advocacy and marketing manager for GNP Company™, the company behind the Gold'n Plump brand. "Minnesota's poultry industry is essential to the economy, being valued at about $1 billion of total economic impact."
"We are happy to be a part of this program because it highlights the educational importance of being a member of a 4-H club," said Brad Rugg, director of 4-H Fairs and Animal Science Programs, University of Minnesota Extension Center for Youth Development. "The Minnesota State Fair is the perfect place for people of all ages to learn about Minnesota's agricultural communities and the Poultry Prince and Princess contest is a great way to acknowledge young adults involvement in their communities."
As well, it has been shown in University of Minnesota research that more than 26,000 jobs in Minnesota depend on the economic viability of Minnesota's $800 million poultry industry of broiler chickens, eggs and turkeys. Minnesota farmers also raise 47 million chickens annually, according to the Chicken and Egg Association of Minnesota. According to the January 2013 USDA report, annual U.S. chicken consumption per person was 81.4 pounds. By comparison, beef consumption per person was 55.4 pounds and pork 45.6 pounds.
About GNP Company
Since 1926, GNP Company is a family-owned provider of premium chicken products to retail, deli and foodservice customers throughout the country under both the Gold'n Plump® and Just BARE® brands. The company employs about 1,600 people and partners with nearly 350 family farmers in Minnesota and Wisconsin to produce wholesome, high-quality chicken. For more information about the company, its full line of poultry products, as well as innovative recipes, general cooking and safe handling tips and nutrition information, visit GNPCompany.com, GoldnPlump.com and JustBareChicken.com.
About Minnesota 4-H Extension Program
Minnesota 4-H is an after-school youth development program provided through the University of Minnesota Extension. The 4-H mission is to engage Minnesota youth in quality learning opportunities that enable them to shape and reach their full potential as active citizens in a global community. Last year, more than 75,000 kids throughout Minnesota participated in 4-H and learned invaluable life skills. According to a 2009 report from a Tufts University national study, 4-H youth are more than twice as likely to be civically active and make contributions to their communities, and are 47 percent less likely to have risky or problem behaviors. For more information about the program, visit extension.umn.edu/youth/mn4-H.
Learn more about the 2013 Poultry Prince and Princess Contest online at http://z.umn.edu/4hpoultryprinceprincess and view photos of the 2012 contest at Gold'n Plump's Facebook page http://www.facebook.com/GoldnPlump.