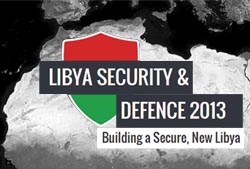 London, United Kingdom (PRWEB UK) 7 August 2013
IRN, global summit organiser and Oliver Kinross are proud to announce the 5th event in the Libya series in collaboration with the Libyan Government, 'Libya Security & Defence Summit 2013' which is set to take place 24-25 October in London, United Kingdom.
Security in Libya has been a main concern for international investors as well as locals. Events such as prisoners escaping, appointment of new chief; the focus has been on security and defence matters.
There has been recent news of the new Defence Minister, Abdullah Al-Thinni, being sworn in to prompt the improvement of the increased violence and security dissatisfaction in New Libya.
The Libya Security & Defence Summit 2013 will assess the security and defence issues facing the New Libya and the wealth of opportunity this presents for the government and business community. This exclusive two-day conference and exhibition will be attended by government, military and business leaders looking to discover the way forward for Libya's security strategy.
The high level meeting will probe into key areas that raise a high interest of discussion in the Libyan region. These include strategies for dealing with: Libyan Security and Threats, Libya, Regional and Global Security Context, Riots and Civil unrest, Hostage situations, Cyber security and Electronic warfare, Protection strategies for oil & gas pipelines and transit points, Oil & Gas security, Protecting Libya's offshore oil and gas infrastructure, Libya's long term security strategy, Responding to crowd emergencies and Terrorist attacks, Securing Libya's borders: static or mobile defence, Development of regional defence alliances and more.
Companies on-board are presenting their expertise in the following areas with more to follow:

Telecommunications equipment (for defence)
Tracked and wheeled armoured combat vehicles and weapon systems
Drones and Unmanned Aerial Vehicles (UAVs)
High security building and critical structures protection
Military aircraft and vessels, missile defense systems, satellites, information technology, advanced electronic sensors and systems, cyber security and electronic warfare and many more.
For speaker inquiries, please contact Jafar Kais at JafarK(at)irn-international(dot)com.
For more information about the summit and registration inquiries, please contact Jessica Jonah at JessicaJ(at)irn-international(dot)com.