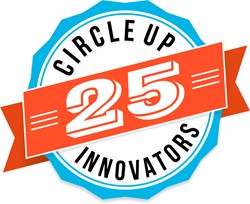 Durango, CO (PRWEB) August 07, 2013
Zuke's is pleased to announce that it has been named one of the Top 25 Most Innovative Consumer Brands by CircleUp25. This cutting edge consumer industry award was created by CircleUp, an online marketplace that supports direct equity investments from individual investors into high-growth consumer and retail companies.
By developing CircleUp25, CircleUp honors 25 companies that are dedicated to changing the way consumers live their lives through new ideas and real innovation. "Zuke's has set the standard for innovation and creativity in pet product research and development," said Ryan Caldbeck, founder of CircleUp. "This award is a testament to the skill, ingenuity, and vision of the Zuke's team and founder."
From the moment Zuke's created the first "energy bar" for dogs in 1995, they have been on an mission to find just the right ingredients and nutrients to help pet owners keep their pets healthy and active. Innovation is at the core of Zuke's business and drives them to create the healthiest, most nutritious treats for pets. Zuke's dedication honors the unconditional bond between pets and pet parents and is reflected in every treat Zuke's makes.
"We are honored to be listed among brands who are as focused on continuous innovation as we are," said Zuke's Marketing Director, Chris Meiering. "Our pets are family members and they deserve only the best, healthiest treats. For that reason, we are constantly searching for new and tasty ways to help support pets' healthy lifestyles, making sure that our treats work hard so that our pets can play hard."
About Zuke's
Located in Durango, Colorado and named after founder Patrick Meiering's Chocolate Labrador, Zuke's is dedicated to creating natural, nutritious, and tasty treats for dogs and cats. Zuke's has been an industry pioneer for the last 18 years, creating innovative treats with the finest meats, freshest fruits, richest vegetables and premium oils to keep pets healthy and allow them to perform at their very best. And Zuke's commitment to pets extends beyond healthy treats. Zuke's helped found The Dog and Cat Cancer Fund (http://www.dccfund.org), an independent non-profit dedicated to helping pets with cancer. Zuke's donates a portion of every purchase to the DCCFund. Learn more about Zuke's at http://www.zukes.com.