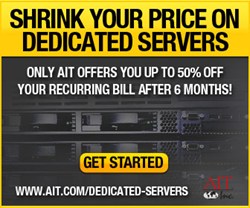 "Customers need dedicated resources which cloud technology cannot promise if any device or service is shared," said Ghana Dhunga, Chief Information Officer.
Fayetteville, NC (PRWEB) August 08, 2013
Advanced Internet Technologies, Inc. (AIT.com), out of North Carolina, the longest established privately owned web hosting company, offers a unique customer loyalty and reward program that slashes the cost of Dedicated Server Hosting by 50% or more after the first six months of hosting services on its Dedicated Servers. "The surge we've seen in new customer orders has compelled us to ratchet up our infrastructure, ratchet up our fiber and add additional bandwidth providers into our primary 93,000 SF data center," said Michael Roberts, COO of AIT. And, AIT fronts the cost of servers, routers, switches, firewalls and load balancers up front to reduce the risk and barrier to switching for new customers. "No other provider can compete with our equipment specs and pricing and we guarantee that," said Roberts.
Many web hosting providers are pushing cloud technologies and even stressing dedicated cloud instances, but unless these instances run on single-tenant hardware dedicated to a single customer, they are ultimately still shared resources. They do not provide the true customization, power and dedicated resources that customers get on dedicated high end servers. True Dedicated Servers offer superior performance and customization. And despite the recent price cuts on dedicated cloud instances, they still cost more on a total-cost-for-performance basis than do true dedicated servers. "We provide heavy metal and lots of it, building out custom solutions with plenty of horsepower for our customers," said Ghana Dhunga, Chief Information Officer.
"Customers need dedicated resources which cloud technology cannot promise if any device or service is shared. Dedicated Servers offer consistent performance and capability and can flex as the business needs and resources change or grow with a business. AIT's message is clear for IT professionals and the conversation is about price to performance," said Dhunga.
"We understand that businesses can choose from a variety of providers and we want to reward our customers for having chosen AIT for their Dedicated Hosting services. Dedicated Servers are a tangible solution that can meet the needs of our customers. At AIT, building a long term customer relationship begins with providing value and sustaining that relationship with proven performance and intense customer service. We want our customers to know that we are working every day to win their business," said Business Development Manager, Michael Noble.
Advanced Internet Technologies, Inc., (AIT) is a privately-held North Carolina based firm specializing in Internet-based products and services. Founded as a garage enterprise in 1995 by Clarence Briggs, a service disabled veteran businessman, AIT is one of the largest web hosting and dedicated server firms in the world. AIT has achieved 17 straight years of profitability as a two-time INC 500 company & three-time Deloitte & Touche award winner with no outside funding under Briggs. He is the recipient of several local and national awards for economic achievement as an entrepreneur to include Entrepreneur of the Year for the state of North Carolina.