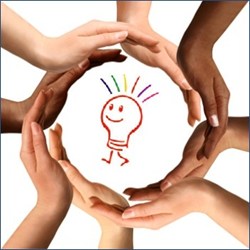 We selected Bellevue College as one of our core student internship programs because of the quality of their students, and the opportunity to provide them with work experience in an important global business segment, American start-ups
Seattle, Washington (PRWEB) August 13, 2013
YouMeThink.com™, a global information solutions company committed to monetizing social media and enhancing its organizational value, has partnered with the Bellevue College International Business Professions Program. The partnership offers top business students the opportunity to complete their internship requirements by working in a high technology start-up company. It also underscores YouMeThink.com's effort to expand its vision of a social media service that converts user-generated content into individual, group and community profits on a global scale.
"We selected Bellevue College as one of our core student internship support programs because of the quality of their students and the opportunity to provide them with a real-world engagement in one of the most important global business segments, American start-ups", stated Dr. Paul Privateer, founder and CEO of YouMeThink.com.
About Bellevue International Student Programs
The International Business Professions Program (IBP) is a one-year program for adults interested in upgrading their skills in International Business and English. The curriculum is a combination of ESL and Business classes, other academic subjects, and Continuing Education classes. Upon completion of three quarters of coursework, students are placed with a local company for a ten-week, unpaid observation internship. The goal of the IBP Program is to prepare students to function effectively as an intern in an American business environment.
About YouMeThink.com
Connect, think, share and prosper. YouMeThink.com™ is a free global information service that helps users connect in new, exciting, and valuable ways. With free videoconferencing and powerful community tools, users are transforming social media into a rich marketplace for their ideas and values. Founded by Paul Privateer, PhD., YouMeThink.com™ is designed to deliver the world's first web marketplace where users create communities to share and prosper from their ideas, knowledge, expertise or entrepreneurial creativity. Users upload content and set their sale price or post free content to share with global communities. YouMeThink.com™ provides a safe and secure marketplace with PayPal™ and SiteLockSecure™ services. The Company uses low-cost user content transaction fees to pay its employees, and to fund the SecondPath Commonwealth Education Foundation, http://www.secondpathfoundation.org. This foundation supports organizations and individuals committed to a fundamental rethinking of American education. YouMeThink.com is an EOC and invites investor inquiries. YouMeThink.com is headquartered in Seattle, WA, currently has 22 global employees, and invites new team members to help design information services based on radical simplicity.