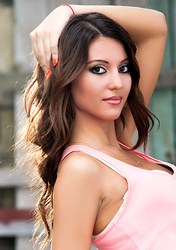 (PRWEB) August 09, 2013
Anastasia International is known around the world as one of the leading online dating services. The company, which has recently recorded massive growth in membership figures, reported recently that it is receiving a great deal of attention from successful American business people.
Membership requests from this demographic have increased over recent months, and the company says this is due to the high standards of service and exclusive dating experience it offers. At the moment, Anastasia International is home to over 4 million people who enjoy online dating with a truly international flavor. They are able to enjoy top class online dating in the peace and comfort of their own homes.
For more than two decades, Anastasia International has been in business, providing a way for discerning international members to meet, connect with each other, and find companionship or romance. Over recent months, the company has seen a marked increase in memberships from extremely successful American business people.
The company reported that it is very happy to see this significant increase. The new members are individuals who expect the finest things in life, and who demand quality in everything they do. The Anastasia International experience is living up to these high expectations. In fact, many members provide feedback stating the service exceeds their high expectations!
The company expects the growth in membership figures will continue, and that news of the service will spread further afield as more members share stories of romance and love.
Everyone wants to meet someone special but it is not always easy. We all lead extremely busy lives, and at times, meeting someone in our home town is not always as thrilling, exciting or as interesting as meeting someone from international shores. Anastasia International offers an online dating service which gives members the chance to meet someone special whomthey might never have been able to connect with under normal circumstances.
As the online dating industry continues to grow, Anastasia International grows in success and popularity too. The company has been dedicated to providing a premium service for the last twenty years. Although this industry is highly competitive, because the company offers such an exclusive service, it is becoming increasingly popular and is fast becoming a force to be reckoned with.
Successful ladies and gentlemen from many countries all around the globe are becoming valued members of Anastasia International. Monthly membership figures indicate that America is the biggest source of new memberships. The chance to meet a beautiful and charming European mate is attracting them to the high quality dating service.
Members include successful business people and professionals from many different areas of industry and commerce. The company is hoping to reach 5 million members very soon and looks forward to welcoming more new members to the service.
AnastasiaDate is anticipating more growth and increased interest in its online dating service over the next few months. The company plans to make further improvements to the website and plans to announce these changes very soon.
About AnastasiaDate
AnastasiaDate is the leading international dating service that facilitates exciting and romantic companionship with beautiful and interesting women from all over the world. Founded in 1993 by a Russian-American couple, AnastasiaDate now has over 4 million international users and attracts more than 10 million online visits monthly. Additionally, over 1.5 million conversations are exchanged onsite daily. AnastasiaDate is committed to member safety, customer satisfaction and the on-going pursuit of innovation. Headquartered in Moscow and New York with additional representation in every country it touches, AnastasiaDate provides a high level of customer service to a worldwide clientele. AnastasiaDate users are able to communicate across a variety of top-notch multimedia platforms, including video chat and a mobile app for Android devices available in the Google Play store.