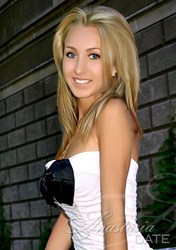 (PRWEB) August 10, 2013
AnastasiaDate is a leading online dating service offering exclusive, high quality dating to over four million world-wide members. The company revealed in a statement recently that it has been voted as the top choice for online dating. The company received the good news after collating the latest feedback from members via its social media platforms. The reviews and top ratings have come from members all over the world.
The AnastasiaDate team also reported recently that membership figures have been steadily growing as more people learn of the high quality service. The company sees the huge growth as an indication that its services are being successfully delivered by its huge team of online dating professionals.
Increasing numbers of successful men and women from around the globe are expressing an interest in joining the top quality services provided by AnastasiaDate. The company is one of the world's fastest growing international online dating services with millions of members keen to log on and find their perfect mate.
AnastasiaDate is determined to remain in the top position in terms of high quality service and popularity. It is proud of its high rating as one of the finest online dating websites available. By providing the finest quality online dating service to members, it has positioned itself as a leader within the industry.
The AnastasiaDate team is made up of highly talented and experienced professionals. The company works hard to ensure that every member is satisfied with the service, and that everything is running smoothly 24 hours a day. The company's goal is to keep growing, improving, and serving, it told us recently.
Twenty years of dedicated service to members has built the company's reputation as a trusted and highly regarded online dating service. Being voted top choice by members is an accolade the company says it is extremely proud of. Being known for providing dating that is of the highest quality is a huge achievement and AnastasiaDate certainly deserves all the praise it is receiving.
Over recent years, the service has grown in popularity in North America where thousands of successful individuals have been joining to experience the premium international dating.
AnastasiaDate gives them the chance to connect with intelligent and charming single people. They all have the opportunity to get to know each other in a relaxed way, and to meet someone special.
Love and romance is always in the air for members, and the international flavor of their dating experiences means they are connecting with people they would otherwise never have met. It is one of the most charming aspects of the service. The AnastasiaDate.com team deserves to be proud of its reputation as a leading provider of high quality online dating.
To be in the fortunate position to give wonderful people the chance to meet and find romance online is a very special thing, and a true indication of the talent and dedication of the entire team.
About AnastasiaDate
AnastasiaDate is the leading international dating service that facilitates exciting and romantic companionship with beautiful and interesting women from all over the world. Founded in 1993 by a Russian-American couple, AnastasiaDate now has over 4 million international users and attracts more than 10 million online visits monthly. Additionally, over 1.5 million conversations are exchanged onsite daily. AnastasiaDate is committed to member safety, customer satisfaction and the on-going pursuit of innovation. Headquartered in Moscow and New York with additional representation in every country it touches, AnastasiaDate provides a high level of customer service to a worldwide clientele. AnastasiaDate users are able to communicate across a variety of top-notch multimedia platforms, including video chat and a mobile app for Android devices available in the Google Play store.