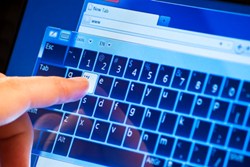 Only by accessing the proxy unblocker over an SSL connection can a user hide the received content from filters
Dallas, Texas (PRWEB) August 08, 2013
idcloak releases a new SSL Proxy Unblocker, which allows internet users on censored internet connections to access blocked sites privately and discretely. The site-based online privacy tool retrieves content from the blocked site on behalf of the user and transfers it to the user's browser through an encrypted tunnel.
"A prime problem faced by users of proxy unblockers is the recent advances in content filter technology," says idcloak's senior researcher, Robin Welles. "Even though a user may gain access to a blocked site through the remote proxy server, once the packets start to be transferred back to the user, some modern content filters will analyze the data and see that, say, Facebook is being accessed. Then the filters shut down access to that proxy and the user is back to square one. Only by accessing the proxy unblocker over an SSL connection can a user hide the received content from filters."
In addition to the SSL connection, the idcloak proxy offers additional security options. "Filters can still identify 'Facebook' as a word in the proxy's URL, even when HTTPS is guarding the connection," says Welles, "and this is why we have an Encrypt URL feature to prevent this from happening. And for protection against the highest-grade filters, there is also the option to encrypt page. If activated alongside an SSL connection, that extra layer of security makes it extremely difficult for a filter to see what is being received by the user."
idlcoak's release of the free unblocker service comes just a month before the launch of the firm's flagship VPN proxy service. "Although the site-based proxy unblocker is great for one-off unblocking tasks, some users want a high performance software solution that is integrated into their devices. The VPN also offers SSL protection at the network level so all internet programs on all devices are protected. It's basically a perfect unblocker service."
Welles also recommends her recently published article on the use of encryption for unblocking: SSL Unblock Proxy Sites: to Encrypt or Not to Encrypt?
See idcloak.com for more about censorship circumvention advice and support.