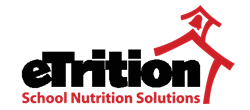 This cafeteria management system has streamlined our processes, from the money collection through the children picking up their trays in the cafeteria. - Karen Haas, Archdiocese of Indianapolis schools
Rocklin, California (PRWEB) August 08, 2013
eTrition, the first web-based school nutrition product in the market, allows districts to meet the challenges faced in a K-12 school nutrition program. eTrition is browser-agnostic, features a centralized database, and includes free and reduced application processing, point of service, menu planning and nutritional analysis, financial accounting, inventory, reporting, and online payments. The design is Section 508 compliant, multilingual, and it meets all nutrition department standards set forth by the USDA. The result, an increase in the speed and efficiency of the school nutrition operation.
"Our goal when developing the eTrition software was to streamline the meal process for students while providing comprehensive reporting for school districts and a user-friendly system for parents," said Bradley Blankenship, Executive Vice President for Harris. "Being recognized as a Readers Choice Award winner demonstrates that eTrition is the market leading software for K-12 school districts today."
The Readers' Choice Awards are presented annually by eSchool News. Readers responded via one of their three websites: eSchoolNews.com, eCampusNews.com, and eClassroomNews.com to provide their top picks for school hardware, software, websites, and services that have proven to be effective. With nearly 700 nominations, 40 winning products were chosen.
The full 2013-14 Readers Choice Award recipient list can be viewed at http://www.eschoolnews.com
About Harris School Solutions
Founded in 1976, Harris is a leading provider of solutions for the K-12 market, offering choices, sophisticated technology and outstanding customer care. With over 4,000 customers, Harris leads the way in providing powerful systems for the K-12 market. The full line of Harris School Solutions software provides numerous options for school nutrition, student information, mass notification, school business, employee time and attendance, adult-vocational education, data backup/recovery, and transportation management. For more information, visit http://www.harrisschoolsolutions.com