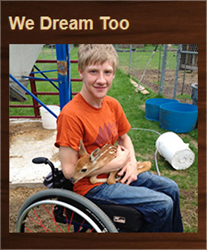 Tike is quoted as saying 'that the goal is to provide awareness and the opportunity for those children that are physically challenged and are unable to experience what the outdoors has to offer.'
Cohasset, MN (PRWEB) August 08, 2013
In an effort to help physically disabled youth enjoy the outdoors, business owner Tike Sutherland created the We Dream Too Foundation. Inspired by his son who is physically disabled, Tike wants to provide for others the same opportunities he has been able to give to his son.
The first annual We Dream Too Banquet, this Saturday, August 10, 2013, at 2 pm will be held at the Cohasset Community Center outside of Grand Rapids, MN. The proceeds of the banquet will go to provide several Whitetail Deer hunts for kids with physical disabilities as well as college scholarships.
Tike is quoted as saying "that the goal is to provide awareness and the opportunity for those children that are physically challenged and are unable to experience what the outdoors has to offer". He is looking forward to a strong turnout and providing a roast pig and other food from his place of business.
Cabinplace.com heard about this need and had a strong desire to help get this benefit off to a great start in its first year. Dave Buxengard, founder and CEO of Cabinplace.com said "that we are happy to provide camouflage bedding for door prizes as well as monetary support of this great cause. We are a major sponsor of this event and hope that this will grow into something huge".
The local media has been gracious enough to run advertisements for this event and several celebrities have shown interest in become participates for upcoming benefits. The local community has shown a lot of interest in this cause and a great turnout is expected for this worthy cause.
Please visit We Dream Too to learn more about this great opportunity for youth with physical disabilities and to make donations.