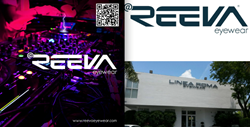 Thanks to Neal Sarin and the rest of his team artists are able to hub at CreativGlu and apply their talent - Alexandre Ovadia
Miami, FL (PRWEB) August 09, 2013
This week Reeva teamed up with visionary online crowd-source community CreativGlu. CreativGlu sparks young artists to seize opportunities through brand-sponsored opportunities. Reeva has offered this exclusive opportunity to the community in exchange and for exposure for the following.
Reeva Eyewear will select 1 winner, who will receive:
-A chance to design their own pair of handmade Italian glasses
-15 frames of the designed style
-A personalized press release about the artist and mural project including videography
-All production expenses paid
-Exposure from I-195
Guidelines:
Reeva is an eyewear company based in Miami that caters towards the electronic music industry. They are looking for a talented street artist to paint a wall scape facing I-195 over Midtown Miami. Artists must have experience using vibrant color schemes and are confident in their capabilities. Keep in mind that their logo must incorporated in the design. Now, show us what you got! - Reeva Headquarters Project Link
Reeva Eyewear takes pride in their sense of community and empowers artists to grow with them. The demand for a music brand has surfaced and Reeva delivers an experience equal to how music makes us feel while wearing their Italian handmade glasses. Miami and the design district swagger strong sense of identity. Nowhere else could you find such blends of cultures. This makes home for foreigners, shortly locals metamorphosed into proud Miamians.
Alexandre Ovadia, Reeva's lead designer boldly mentioned in reference,"Our community shares overwhelming talent! Why mural our own building? Thanks to Neal Sarin and the rest of his team artists are able to hub at CreativGlu and apply their talent to the available projects."
This contest is running live until the 6th of next month. CreativGlu and Reeva Eyewear encourage our inner artists to surface in the movement to revolutionize the way we find talent.