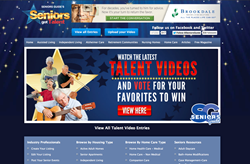 The focus of Seniors Got Talent is to celebrate the vibrancy of being a senior.
(PRWEB) August 09, 2013
The competition heats up as the first three videos have been posted online to Seniors Guide's third annual Seniors Got Talent, sponsored by Brookdale. For information on entering the contest and to cast your vote, visit http://www.seniorsguideonline.com/seniors-got-talent
"It's great to see the videos every year of older adults who 'still got it' and are having fun," says Katharine Ross, Vice President of Sales & Marketing for Seniors Guide Magazine and http://www.SeniorsGuideOnline.com. "The focus of Seniors Got Talent is to celebrate the vibrancy of being a senior."
The first video "Singing in The Rain" takes a unique twist on the classic with modern dance and music. Submitted by Brenda in New Jersey, the video was taken during the 2013 Miss New Jersey Senior America Pageant.
"This is the video from my talent competition," says Brenda. "I did not win, but I had a lot of fun."
This year's Seniors Got Talent features three cash prizes awarded to the videos with the most votes: first place wins $1,000; second wins $500; and third wins $250.
Back again for another year of competition is Seniors Got Talent first-year winner The G-Squad, talented dancers from the Garner Senior Center in Garner, North Carolina. The G-Squad video features choreography to Adele's "Rumor Has It."
"Our goal is to let the public know age is only a number," says Nancy Hulbert, Fitness Specialist for the town of Garner, N.C.
Betty in Cincinnati, Ohio, submitted her video of her zip lining in Costa Rica and highlights her program Growing Young, where she teaches healthy aging techniques at the Anderson Senior Center. She is also a published author of the book Growing Young.
Deadline for new entries and voting is December 31, 2013.
Seniors Guide, a Richmond, Va.-based company publishes Seniors Guide magazines throughout Cincinnati, Ohio; Dayton, Ohio; Indianapolis, Indiana; Raleigh-Durham, North Carolina; Richmond, Virginia; and Roanoke-Lynchburg, Virginia and features a correlating website of SeniorsGuideOnline.com. Seniors Guide's mission is to help seniors and their families find the information they need on options available in senior housing, senior care, assisted living, independent senior living, retirement communities and other retirement living needs. Seniors Guide also has resources at http://www.HomeCareChoice.com for Cincinnati, Ohio; Dayton, Ohio; Raleigh-Durham, North Carolina; and Richmond, VA. Ross Publishing, Seniors Guide's parent company, began in 1991 and has been publishing helpful, free publications and websites ever since.