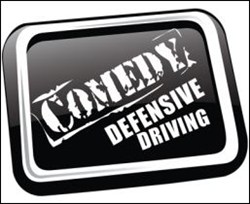 (PRWEB) August 07, 2013
Comedy Defensive Driving, an award-winning online defensive driving school, has expressed emphatic support of the findings of a recent survey conducted by the U.S. Department of Transportation's National Highway Traffic Safety Administration (NHTSA). The survey indicates more parents are choosing to keep their children in age- and size-appropriate car seats and booster seats longer, rather than prematurely switching to seat belts. The survey found that 91 percent of children under age 13 are being restrained in car seats, booster seats and belts; this is an increase over past data demonstrating a positive trend toward protecting younger passengers.
With a commitment to delivering critical driver education training in a non-traditional style, Comedy Defensive Driving is serious when it comes to passenger safety. The company adapts its approach to driver education to comply with and address the most recent safety statistics, offering an engaging and relevant curriculum.
NHTSA data indicates that motor vehicle crashes continue to be a leading cause of death for children from one to 13 years old. Organizations like Comedy Defensive Driving tout the critical need for correct use of age- and size-appropriate child restraints.
About Comedy Defensive Driving – Based in Irving, Texas, Comedy Defensive Driving has been providing defensive driving classes since 1989 in online and classroom-based formats. The company's award-winning online defensive driving course offers a simple, unique and entertaining way to complete a defensive driving course. Comedy Defensive Driving instructors use humor to make a six-hour course far more fun and interactive than traditional approaches to traffic school. Comedy Defensive Driving offers driver safety courses for corporations, government agencies, and fleet managers that can be incorporated as a component of existing employee safety programs and. For more information, visit: http://www.comedydefensivedriving.com/.