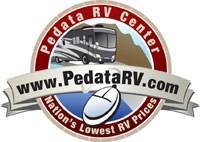 There are enough hazards out on the open road without adding to them.
Phoenix, AZ (PRWEB) August 10, 2013
Pedata RV Center, the leader in inventory for those seeking a used RV for sale, issues a list of tips to help keep RV tires in good condition and RVers safe.
Americans are staying busy this summer by taking vacations in their recreational vehicles. Hundreds of thousands of miles are being covered by families hitting the road while school is out. There are a list of things travelers should make sure to check before heading out, and one of the most important items is the set of tires that will be rolling between the them and the road. If a tire or tires should fail, the best thing that could happen is that you end up in the break-down lane of the highway. The alternative would be an accident, which could have tragic consequences for all involved.
According to the recently published Hankook Tire Quality Gauge Index, Americans will travel over a thousand miles throughout the year to reach their destinations. This is startling, but even more startling is the fact that less than half of them will check the tires on the vehicle they are traveling in to make sure the tread is in good condition with sufficient depth, and that there is no damage to any of the tires. Another thing frequently skipped is checking the air pressure in the tires to assure that it is correct for the conditions they will be traveling in. These items should be checked every time a traveler leaves on a trip, and at least once a month whether they are traveling or not.
It is important to remember the one tire that most people tend to neglect, and that is the spare tire. While a traveler checks the tires that are actually touching the ground, he or she should be checking the one tire that may save a vacation in the event of a flat or blow out—the spare tire.
Nobody wants complications while traveling, and Pedata RV Center wants all travelers to be safe. For this reason, they have shared a list of helpful travel tips to keep RVers safe and protected. Here are a few tire tips to keep in mind:

Choose a Shady Spot to Park – As the temperature rises, the air in your RV tires expands. In fact, for every 10 degrees Fahrenheit that the air temperature in your tires increases, the inflation pressure can increase to one pound per square inch.
Check Fluid Levels – This check should include topping off the windshield cleaner fluid, the brake and transmission fluids as well as the motor oil.
Tire Rotation – This important safety precaution is simply a matter of changing the position of each tire on the vehicle to maximize and even out the wear on the tires. This step should be taken approximately every 7,000 miles, or every six months; whichever comes first.
Check Brakes and Pads – Close monitoring of your brakes, pads and shoes is very important. Your brakes are nothing to take lightly, especially when you are traveling mountainous roads and highways.
No Over Weighted Loads – Hauling too much weight in your RV can eventually cause the deformation of your tires. Check the owner's manual for the recommended maximum weight capacity.
Carry the Proper Supplies – Be sure that in the event of a flat tire, you have the proper tools to fix it, such as a jack and a lug wrench.
Use the Proper Tires – Choose a tire that offers lower rolling resistance. This will improve fuel efficiency by minimizing wasted energy as the tires roll. This will ultimately lead to savings for the traveler.
Gerard Pedata of Pedata RV Center said, "There are enough hazards out on the open road without adding to them by ignoring something as simple as your tires. It only takes a couple of minutes to glance at them and make sure that they are road worthy."
Pedata RV Center offers used motorhomes for sale, as well as used RVs, travel trailers, fifth wheels, and campers. Their full inventory is accessible online, and due to their low overhead costs, they are able to offer some of the most competitive pricing in their industry.
For more information on how to find a used RV for sale, or current trends in the RV industry, visit Pedata RV Center online at http://www.pedatarvcenter.com/.