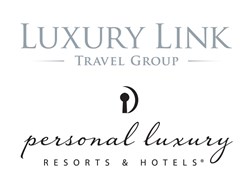 It takes a special property to be featured on Luxury Link, and similarly it takes a special property to gain inclusion in Personal Luxury Resorts & Hotels' impressive portfolio. - Diane McDavitt, Luxury Link president and co-founder
Los Angeles, CA (PRWEB) August 08, 2013
The Luxury Link Travel Group announced today that Luxury Link, the world's leading luxury vacation website, is now showcasing special offers from select Personal Luxury Resorts & Hotels® in the United States. Personal Luxury Resorts & Hotels includes unique hand-picked properties delivering personalized luxury in a spirit true to its own distinctive locale within spectacular U.S. destinations coast to coast and offshore.
Savvy travelers can now find Personal Luxury Resorts & Hotels in locations ranging from Florida to Hawaii to the Pacific Northwest and beyond, each including luxurious extras and amenities that make Luxury Link's vacation experiences unique. To introduce these award-winning properties to travelers, Luxury Link is staging a Pinterest sweepstakes for a stay at a Personal Luxury Resorts & Hotels location, while next Thursday, Aug. 15 @LuxuryLink will host a live Twitter chat highlighting the collection.
"It takes a special property to be featured on Luxury Link, and similarly it takes a special property to gain inclusion in Personal Luxury Resorts & Hotels' impressive portfolio," said Diane McDavitt, Luxury Link president and co-founder. "Our discerning travelers gravitate toward destinations such as Napa Valley, Florida and Hawaii, and they look for truly exceptional hotels when planning their vacations. Personal Luxury Resorts & Hotels gives them exciting new options in those places and beyond."
"An exclusive partnership with the Luxury Link Travel Group is a natural next step for the Personal Luxury portfolio of resorts and hotels," notes James Simkins, chief operating officer, Personal Luxury Resorts & Hotels. "It is an organization that mirrors our vision for the future of extraordinarily personalized hospitality. We look forward to a long and mutually-beneficial relationship."
Vacation experiences at ten Personal Luxury Resorts & Hotels across the U.S. – including five in Florida – are currently available on Luxury Link:
Bardessono – Yountville, California
Costa d' Este Beach Resort – Vero Beach, Florida
Cottages & Villas at Turtle Bay Resort – Oahu, Hawaii
Hotel 1000 – Seattle, Washington
Hotel Granduca – Houston, Texas
ONE Bal Harbour – Bal Harbour (Miami), Florida
Marenas Resort – Sunny Isles Beach, Florida
Naples Bay Resort – Naples, Florida
Willows Lodge – Woodinville, Washington
Villas of Grand Cypress – Orlando, Florida
Today through Wednesday, Aug. 21 visitors to the Personal Luxury Resorts & Hotels collection page on Luxury Link can enter a "Pin It to Win It" sweepstakes via Pinterest for a chance to win a stay at a property of their choice. In addition, representatives of the ten aforementioned Personal Luxury Resorts and Hotels will join @LuxuryLink for its first-ever live Twitter chat on Aug. 15 at 2 p.m. ET/11 a.m. PT to answer questions about their incredible properties and engage with travelers.
About the Luxury Link Travel Group:
The Luxury Link Travel Group is a collection of luxury travel websites offering value-added, immersive experiences at five-star accommodations around the world at insider prices. Flagship Luxury Link features luxury vacation experiences from over 1,000 luxury and five-star hotels in more than 80 countries. For 16 years, the trusted luxury hotel experts at Luxury Link have worked directly with the world's top properties to create premium, hand-picked travel experiences not available anywhere else. Family Getaway focuses on delivering memorable vacation experiences for families of all sizes, while offers limited-time, members-only hotel sales on exceptional properties worldwide. The company is privately owned and managed by e-commerce and online travel veterans, with offices in Los Angeles and New York. Connect on social media: Facebook, Twitter and Pinterest.
About Personal Luxury Resorts & Hotels:
Personal Luxury Resorts & Hotels® includes unique hand-picked properties in spectacular U.S. destinations coast to coast. Each hotel and resort delivers personal luxury in a spirit true to its own distinctive locale, yet in keeping with the collection's shared mission. They represent a select portfolio of Benchmark Hospitality International®, which has been a leading US-based hospitality management company for over 30 years. Personal Luxury Resorts & Hotels is the preferred choice of guests who yearn for transformation over accommodation, customization over conformity, and inspiration over predictability. With Personal Luxury Resorts & Hotels, luxury is always personal. To become a fan on Facebook, visit facebook.com/PersonalLuxuryResortsandHotels, or follow us on Twitter at twitter.com/PersLuxResorts