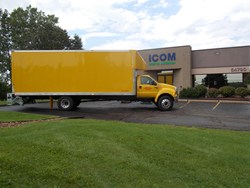 EPA certification of the 2014 Ford 6.8L engine platform increases the spectrum of what's available for fleets.
New Hudson, MI (PRWEB) August 08, 2013
As Ford's model year 2014 trucks begin to hit the streets, fleet professionals interested in converting them to economical propane autogas now have more options. Icom North America, manufacturer of the patented Icom JTG II® propane liquid injection systems, is among the first companies to earn Environmental Protection Agency certification for the Ford 6.8L engine for several 2014 platforms.
Providing both Monofuel and Bifuel options, Icom has attained EPA certifications for all Ford E- and F-series platforms, from 14,000 to 33,000 gross vehicle weight rating, from 2009 to 2014. This includes commercial and consumer vehicles.
A wide range of Ford E- and F-series vehicles use the 6.8L engine. They are commonly found in airport shuttles, emergency vehicles, heavy-duty trucks, electrical service vehicles and delivery trucks.
"EPA certification of the 2014 Ford 6.8L engine platform increases the spectrum of what's available for fleets," said Ralph Perpetuini, CEO of Icom North America. "It allows us to immediately install our propane liquid injection system for customers as soon as the vehicle purchase is made, making the process seamless for converting to clean, economical and sustainable propane autogas."
With 90 percent of the nation's propane supply produced domestically, propane autogas drives down dependence on foreign oil. When compared with gasoline, vehicles fueled by propane autogas produce up to 25 percent less greenhouse gases, 20 percent less nitrogen oxide, and up to 60 percent less carbon monoxide emissions. Propane autogas costs an average of 30 to 50 percent less than gasoline and nearly 50 percent less than diesel.
"Propane autogas is an ideal alternative fuel because it's easy on the environment and on the wallet," said Albert Venezio, chairman of Icom North America. "When you factor in the savings on fuel and maintenance for propane autogas vehicles with the additional tax credits available for fleets, the return on investment can be less than two years for 6.8L vehicles that drive an average of 20,000 miles annually."
The JTG II system often delivers substantial fuel economy improvements as well as increased power, torque and performance when compared to propane vapor injection systems. The system includes an enhanced multi-valve for rapid filling and an integrated fuel pump for ease of service.
"For 30 years, providing viable alternative fuel solutions for our customers worldwide has been Icom's core focus," Perpetuini said. "We offer game-changing technology that empowers fleet professionals to enhance their fleets and save money while providing them with reliable service. That's why fleets choose us."
Since 2004, Icom has supplied its systems to approximately 150,000 vehicles worldwide, including leading bus, truck and commercial vehicle manufacturers in the U.S. Trained technicians nationwide install Icom technology. Icom has the industry leading list of EPA certifications covering more than 600 platforms, including numerous Ford engines and platforms, GM Chevrolet- and GMC-brand light-duty trucks and SUV platforms with 4.8L and 5.3L engines.
About Icom North America, LLC.
Based in New Hudson, Mich., Icom North America is a world-class leader in propane autogas innovation. Utilizing the highest American-made products available, Icom develops, assembles and integrates the Environmental Protection Agency certified JTG, JTG II, JTGhp, and JTG-D propane liquid injection fuel systems, as well as toroidal and cylindrical fuel tanks. Icom's propane liquid injection technology has obtained numerous EPA and California Air Resources Board certifications to power a full lineup of Chevrolet, Ford, Dodge, GM, Lincoln and Mercury vehicles as well as Blue Bird shuttle buses. These Monofuel and Bifuel applications have achieved superior emissions, torque, power and drivability. Learn more by visiting icomnorthamerica.com.