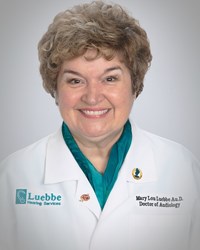 "Probably 95% of hearing aid users can benefit from this new technology!", declares Dr. Luebbe Gearhart.
Columbus, Ohio (PRWEB) August 09, 2013
Dr. Mary Lou Luebbe Gearhart is a second generation Audiologist who has first hand experience when it comes to the evolution of hearing aid technology. Her father was a pioneer in the field and established the Luebbe family business 67 years ago to help WWII Veterans returning with battle and noise-induced hearing loss. Today, Luebbe Hearing Services is a thriving practice dedicated to helping Central Ohio residents hear better.
Back when her father started his practice, hearing aids were big and bulky and worn on the chest. The aids had long wires connecting the round button receivers in a person's ear. You were literally "wired for sound". Some patients had a battery pack strapped on their leg. To make matters worse, hearing aids were not very adjustable or customizable either. There was a wheel to control volume and a potentiometer, that used a screwdriver, to adjust the "tone or pitch" or limit the output. The microphones picked up clothing noise when you moved, and background noise interfered with speech. Vacuum tubes were being replaced with transistors, so the aids could be put into eyeglass temples. The point is sixty years ago only 23% of people with hearing loss got hearing aids. Easy to see why.
Fortunately, hearing aid technology has come a long way. Today's digital hearing aids are virtually "invisible" and so comfortable people forget they're wearing it. Luebbe Hearing Services is one of the first in the nation to use a new, proprietary system called Speech Mapping. This new technology measures how a hearing aid is processing speech and actually allows the Audiologist to "see" on a monitor what vowels and consonants the hearing aid is making audible. Speech sounds need to be audible and "heard" before they can be clear and understood.
Speech Mapping lets the Audiologist fine tune the hearing aid for optimum speech clarity, comfort and benefit. This technology takes into account the patients audiogram, and allows programming the hearing aid to work specifically with a patients hearing loss in a variety of real world sound environments and everyday situations that a patient may experience.
Yet, despite the marvelous advances in hearing aid technology, most people who can benefit are not taking any advantage. According to Dr Luebbe Gearhart, an astounding 77% of the hearing impaired never seek professional help. The needle has virtually not budged in over 60 years! Research has also shown that people with untreated hearing loss earn on the average $10,000 less per year.
Dr Luebbe Gearhart, forever the optimist, believes things will change for the better. "I am hoping that with this new technology and educational outreach, more people will get the hearing help they deserve" the good Doctor opines.
For more information about hearing loss and its treatment contact;
Luebbe Hearing Services at: 614.431.1010
info(at)hearohio(dot)com
About The Consumers' Choice Award:
Established in 1987, the Consumers' Choice Award® identifies and promotes businesses that deliver customer service excellence. The Consumers' Choice Award® has retained a leading independent research firm to conduct surveys in U.S. cities; Columbus , Atlanta, Dallas, and Houston. The winners are determined by consumers and not by a panel of judges. The survey covers a broad range of categories of interest to both the public and business communities. Its purpose is to publicly identify those establishments that have been voted by consumers as being their choice for excellence. The Consumers' Choice Award® is a most prestigious tribute to local businesses that serve their communities well. The program is encouraged by all levels of government and by business leaders. Find out more about The Consumers' Choice Award® by visiting http://www.consumerschoiceaward.com/.