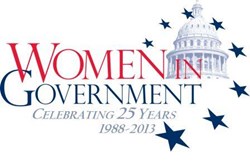 Salt Lake City, UT (PRWEB) August 13, 2013
Women state legislators recently met in Salt Lake City, Utah to participate in Women In Government's Third Annual Diabetes Task Force. Legislators collaborated with stakeholders to brainstorm and research effective state policies and programs that allocate medical and state resources efficiently, incorporate goals for incident reduction and expand options for providers in promoting optimal patient care.
During the two days, WIG and its legislative members put together a variety of approaches to address diabetes in their constituencies. Solutions included strategies that speak to education and awareness, existing and emerging options for treatment, long-term costs of diabetes care and its impact on state budgets, addressing barriers to care in vulnerable populations, and addressing barriers to care in health plan coverage and Medicare regulations.
Examples of recommendations for policymakers interested in tackling diabetes issues include:

Supporting non-traditional strategies in areas with greater numbers of vulnerable populations such as expanded clinic hours in order to reach those who need medical attention and increase compliance and adherence to a provider's medical treatment plan
Ensuring that prevention strategies be put in place for institutions and businesses – including government employees, with support for ongoing government, school and employer wellness and health appraisal programs
Pro-actively seeking models of leading states for change such as Tennessee's Diabetes Prevention Health Improvement Act of 2006 which
Established the Tennessee Center for Diabetes Prevention and Health Improvement as a State Agency focused on developing, implementing and promoting a statewide effort to combat the proliferation of Type 2 diabetes
To access the full list of diabetes care recommendations visit: http://www.womeningovernment.org/diabetes/2013TaskForceRecommendations
Women In Government Foundation, Inc. is a non-profit, non-partisan organization of all 1781 female state legislators across the country which provides educational resources, expert forums, networking and leadership opportunities.