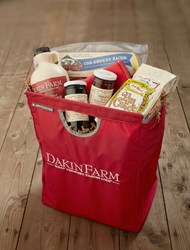 Vergennes, VT (PRWEB) August 07, 2013
ADK Packworks, an innovative bag and pack company, is proud to announce its partnership with Dakin Farm on a co-branded version of the company's reusable grocery bag, The Grocer. The innovative take on the classic Adirondack pack basket is now available in Dakin Farm's two retail outlets and online as well.
The Grocer will be available as an alternative option to the coolers/packs that Dakin Farms currently offers for the shopper who might be visiting on a tour bus and needs to keep their perishable products – like smoked meats and artisan cheeses - cold with a few stops still remaining on their trip. The red version of the tote will feature the Dakin Farm logo and tagline, 'What Vermont Tastes Like.' The Grocer is currently available at the original Dakin Farm store on Route 7 in Ferrisburgh, Vt. and the branch store located on Dorset Street in South Burlington, Vt.
"We are excited for this great opportunity to partner with another Vermont business, especially since the two complement each other so well. Dakin Farm is known for its authentic Vermont experience and reaches customers around the world. Collaborating with them is a great way to introduce our brand to a new audience through their already established and loyal fan base," said ADK Packworks Co-Founder Doug Rumbough.
The Grocer is the greatest evolution in a reusable grocery bag industry that has seen little innovation since the need for an eco-friendly bag was identified, building off the 150-year old concept of the tried and true Adirondack pack basket that was built for carrying heavy loads. ADK Packworks has modernized this classic concept to address the shortcomings of reusable grocery bags by designing a structure that stands up on its own and stays open so it's easily loaded and unloaded, thanks to a semi-rigid internal frame and a flat bottom.
This lightweight, durable, eco-friendly bag takes up little space, as it stands tall when in use, but folds up when it needs to be stored. The Grocer can be adjusted for three different carrying options (two-handled, over-the-shoulder, and backpack style) and gives you additional flexibility when you are on the go with an optional insulated liner that is great for keeping your groceries cold.
Dakin Farm, founded in 1792, is a multi generational, family owned and operated business that offers Vermont specialty food products. Dakin's specialty foods reflect the centuries old Vermont tradition of quality and value. For more information on Dakin Farm, you can call 1-800-993-2546 or visit: http://www.dakinfarm.com/.
###
About ADK Packworks
ADK Packworks, headquartered in Vergennes, Vt., was founded by Doug Rumbough and the Linckia Development team, a group of seasoned entrepreneurs who have developed and grown multiple consumer product businesses to successful exits, including NEOS and Ulu Footwear. The executive team has significant consumer brand and operational experience and utilizes industrial designers and engineers who have a broad range of experience in the bag and backpack markets. The group brings a good sense of quality design and living in Vermont, they are rooted in the importance of the environment and hope that The Grocer helps in reducing the waste that plastic and paper bags create. For more information, visit: http://www.adkpackworks.com/.