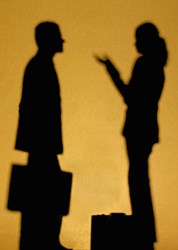 The problem with communication is the illusion that it has occurred.
Atlanta, GA (PRWEB) August 08, 2013
Given the time consuming demands technical professionals face, wouldn't it be amazing to transform communication effectiveness in sixty seconds flat? It can be done – by learning this powerful technique from GeeksCanSpeak.com.
By definition, communication is a two-way street. Effective communication happens when one person communicates a message, and another accurately receives and understands it. In other words, the communication "sender" and "receiver" both share the same knowledge and understanding. But as George Bernard Shaw said, "The problem with communication is the illusion that it has occurred."
And the most common barrier – the place where the breakdown occurs – is when the receiver does not listen effectively.
How to Communicate with Impact in Sixty Seconds
When we truly listen to other people, we exponentially open up our ability to create mutual understanding and respect (not to mention business results that impact the bottom line). The best part is, it's a skill that can be learned and developed. Follow these three simple steps to implement active listening techniques and transform your communication skills in sixty seconds.
Step One: Take committed action – decide to cultivate the habit of active listening.
Without a commitment to change, we fall back into our old habits – we stop listening if we think we know where the conversation is going, or if we have other pressing priorities to think about, or when we have something to say when the other person finally stops talking. In fact, the list of reasons why we don't listen is endless. And the only way to make the change is to commit – even when the new way is difficult or uncomfortable.
Step Two: Practice active listening – listen for meaning and verify understanding.
First, active listening requires shutting out the mind's own internal chatter. Next, focus on the meaning the other person is trying to communicate – not just the words. Go deeper. Pay attention to their body language and vocal inflections. Finally, consider the message from their perspective – think about where they are coming from.
Step Three: Confirm understanding – and repeat as many times as necessary.
To confirm understanding, the listener repeats what they heard, in their own words, then allows the speaker to either validate its accuracy or correct any misunderstanding. Repeat this process until the message is completely clear. With practice, anyone can become a better listener – and get it right the first time, more of the time.
Something powerful starts to happen when this technique is utilized: People realize they're truly being heard. They value the active listener more than ever before – and they even start using the same technique to communicate better with others. In essence, learning it will elevate the level of understanding throughout the work environment. Why does this happen? We feel good when we feel understood. And we are wired to seek out pleasure and avoid pain. Once we experience a better way, we will find it hard to see ourselves talking in the old ways that did not work.
For more on how to communicate with impact, contact us at GeeksCanSpeak.com or (888) 38-GEEKS. Learn our entire ten-step approach to empowering technical professionals with high performance communication skills – and positively impact the bottom line by elevating technical organization performance. Ask about our training and coaching programs for technical organizations and technical leadership.