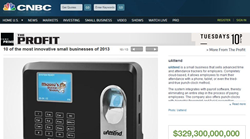 The recognition from CNBC of our uAttend™ Employee Management System being one of the most innovative tools for small business, coupled with the consistent positive feedback we receive from the business community truly reinforces our focus on our end user
San Diego, CA (PRWEB) August 13, 2013
Processing Point, Inc. is proud to announce that its uAttend timekeeping software system has received recognition from CNBC as one of the most innovative small businesses of 2013. CNBC is a prominent broadcast and online business news publisher. As a fast growing provider of employee time and attendance solutions, uAttend is pleased to find itself on such a notable list.
"The recognition from CNBC of our uAttend™ Employee Management System being one of the most innovative tools for small business, coupled with the consistent positive feedback we receive from the business community truly reinforces our belief that hard work, dedication and a constant focus on our end user is a just and worthy pursuit," said Andrew Newby, COO of Processing Point, Inc.
uAttend time and attendance systems give today's businesses the ability to automate and streamline their payroll and HR processes, drastically cutting down on time and labor costs. Modern workplaces, with their complex business and HR needs, are in constant need of innovative solutions that can help them stay competitive and maintain sustainable growth. uAttend time tracking software systems help businesses achieve these objectives and more.
"Innovation is at the center of any successful software company," said Chad Buckmaster, CEO of Processing Point. "It drives growth and keeps your business credible and relevant. For us, it is at the core of everything we do. Being recognized for these efforts is both reassuring and exciting."
uAttend workforce management systems provide universal access through cloud-based connectivity and offer a growing list of robust features designed to help achieve optimum efficiency and productivity. Systems are available with various punch-in options including RFID proximity card readers, PIN punches, biometric fingerprint or facial recognition time clocks, as well as the ability to punch in from Web browsers and Smartphone/mobile apps.
uAttend time clock systems have been highly successful in streamlining employee time and attendance tracking for small and medium-sized businesses across the globe. The recognition from CNBC is a reputable testament of the quality, value and effectiveness of these solutions.
###
If you would like more information about uAttend timekeeping software, please call 1-800-518-8925 or visit the corporate website at http://www.uattend.com.